Indigenous books for babies, toddlers and pre-schoolers
Updated 5 July 2023
In recent times there have been some beautiful board books by indigenous authors for babies and toddlers and I'm really excited to share my favourites with you.
These indigenous books simply did not exist when my own children were small. In fact, twenty years ago I was unable to find any children's books at all that were written by indigenous authors, let alone any board books. But authors and artists like Sally Morgan and Bronwyn Bancroft changed all that, with their clear, bright illustrations and wonderful, simple text and they are now being joined by younger artists and authors such as Kiara Honeychurch and Kamsani Bin Salleh.
Welcome as the contributions of these authors and illustrators are, there are still very few board books by indigenous authors published in Australia. I hope that this will change but, in the meantime, I've gathered together the 10 best indigenous board books to share with you.
Sharing board books by indigenous authors with kids
One of the many wonderful things about reading aloud to our children is that it creates opportunities for talking with them about subjects that are important to us. For me, that includes talking about our First Nations people and their rich cultures and histories. I don't think it's ever to early to start those conversations.
The ten board books on this list are the perfect books to use if you're keen to begin introducing young children to indigenous perspectives. They're great to share with little ones from birth right up to the age of about three, although older children will also enjoy some of them.
These books are fantastic to read throughout the year but they're especially good to share with little ones during NAIDOC Week and around Sorry Day, Australia Day and Reconciliation Week.
Read them together, explore the gorgeous illustrations and talk about the stories. All are wonderful additions to a young child's library and make beautiful gifts, for your own child or for a friend or relative.
My 10 Favourite Board Books by Indigenous Authors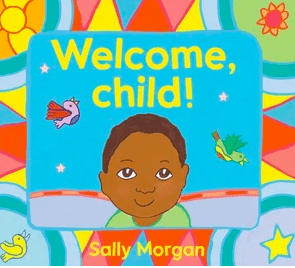 1. Welcome, child!
Welcome, child! is a 2021 release from Australian indigenous author and illustrator, Sally Morgan. Sally's mother, a member of the Bailgu people of the Pilbara region of Western Australia, was part of the Stolen Generations. I love Sally's bright, colourful illustrations and have been waiting for this book for a while.
Welcome, child! is a simple, beautiful celebration of the love we feel for a new child. The text is really lovely and it's beautifully complemented by the bright, joyful illustrations of happy birds, dancing stars and hearts that shine.
Birds sing songs of delight to greet you.
All our hearts shine with love for you. Welcome, child!
This book is one of the best board books to give as a gift for a new baby or to give as a gift at a baby shower. It's also a fantastic book to read aloud to a baby at bed-time.
2. My Country
My Country is a collaboration between Aboriginal artist and author, Sally Morgan, and her son, Ezekiel Kwaymullia. At its heart, this beautiful book is quite simply a celebration of country, written in simple lyrical prose and illustrated in wonderful, vibrant colour. The story follows a little girl as she explores the country she loves, singing the earth's song, flying with the red desert dust and sleeping among the ghost gums. While little ones will simply enjoy the bright illustrations and the sound of your voice as you read, this book is nevertheless one that can serve as a lovely introduction to indigenous perspectives for even the youngest children.
3. I Love Me
This cute little book which is co-written by Sally Morgan and her daughter, Ambelin Kwaymullina, is a simple, joyful book about loving ourselves. With sparse, simple text appropriate for very young children, it talks about loving not just all the different parts of our bodies but also the things our bodies can do. Importantly, it also talks about loving ourselves when we feel different feelings. The overall message is one of loving and accepting ourselves no matter what and that's a message little ones need to hear early on and then over and over again as they grow.
4. We All Sleep
This is another collaboration between mother-and-son duo Ezekiel Kwaymullina and Sally Morgan and it's one of the most gorgeous indigenous books for children I know of. The book is basically a journey through a day, celebrating the interconnectedness of people and the animals, beginning in the morning when the kookaburra calls and moving through to the evening when the dingo howls until all creatures are asleep beneath the stars. With Morgan's trade-mark illustrations which beautifully evoke the colours and mood of the Australian bush and its lyrical, calm prose, We All Sleep makes a wonderful bed-time story.
5. 1 2 3 of Australian Animals
This is a very cute counting book written and illustrated by Bronwyn Bancroft, an artist and a Bundjalung woman from Tenterfield in northern New South Wales.
The book is a delightful introduction to the numbers 1-15 and also a wonderful exploration of Australian animals – some familiar and others which are a bit more unusual. I find that toddlers especially love the animals and their antics and enjoy exploring the different verbs Bancroft uses:
One platypus diving
Two brolgas dancing
Three koalas dozing
Four crocodiles snapping
Five kookaburras laughing . . .
6. A B C of Australian Animals
I think of a b c of Australian Animals as a sort of companion text to 1 2 3 of Australian Animals, both written by the wonderful Bronwyn Bancroft. As well as being beautifully illustrated, this book is lovely because it introduces so many unusual animals. Of course, there's a koala and a platypus and all the animals we all know, but there are also some that I've never heard of, including the velvet worm and the zebra lionfish! A gorgeous and very Australian A B C book.
7. What do you call a baby … ?
Kamsani Bin Salleh is an Australian artist who is descended from the Nimunburr, Bunuba and Yawuru peoples of the Kimberley and from the Ballardong Noongar people of the Perth region of Western Australia.
What do you call a baby…? is a lovely way to introduce children to the vocabulary we use to  describe the offspring of some of our iconic Australian animals. Baby frogs are called tadpoles, but what do we call a baby goanna or a baby echidna?
Bin Salleh uses a gorgeous palette of pastels to introduce little ones to these animal parents and their babies and beautifully captures the bonds between them.
8. Counting our Country
Jill Daniels is an artist and a Ritharrŋu and Madarrpa woman from South East-Arnhem Land in the Northern Territory.
Counting our Country is a bi-lingual counting book which explores the numbers from one to ten, with each double-page spread featuring the name of the animal in Ritharrnu, Jill's Aboriginal language, as well as in English. The book includes a guide to help parents and children learn how to pronounce the Ritharrnu animal names.
With bright and playful illustrations, this book presents a wonderful opportunity to introduce little ones to one of the many Aboriginal languages spoken in Australia.
9. In the bush I see
Kiara Honeychurch is a young artist who was born in Broome in the far north of Western Australia and is descended from the Wunna Nyiyaparli people of the Pilbara.
Kiara's book In the bush I see is a playful look at the animals she sees in the bush near her home in Tasmania. The illustrations are paired with adjectives describing the character and movement of the animals.
10. W is for Wombat
Yes, our final book is another of Bronwyn Bancroft's indigenous books, featuring her trademark brightly-coloured, Aboriginal dot-style illustrations. Essentially, W is for Wombat is a book of first words, with each page depicting a different Australian animal or object. This book would make a lovely gift for a young child, especially if you're looking for a gift to send to a friend or relative outside Australia.
To save this post for later, pin the image below: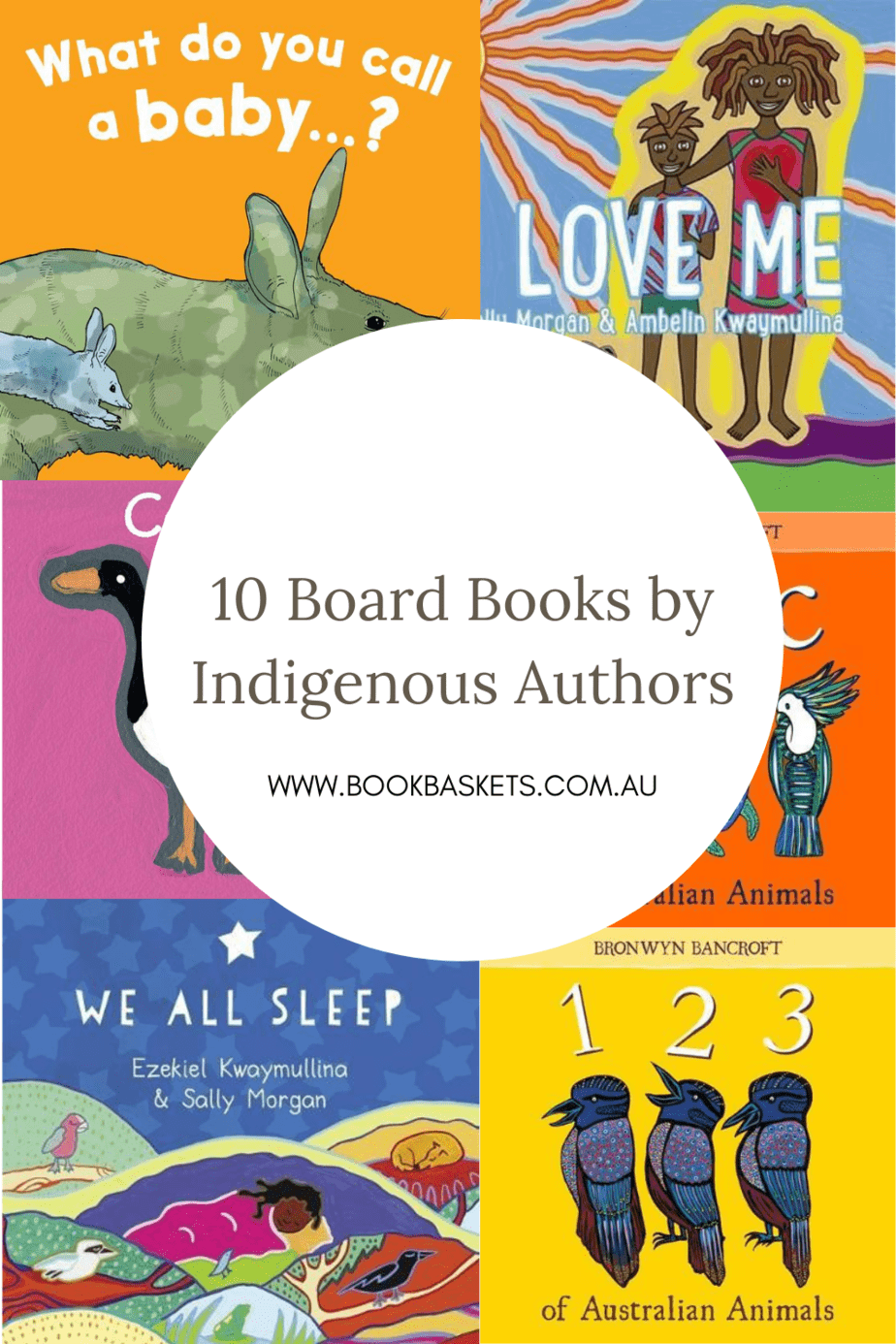 Over to you
Do your children have any favourite indigenous books?
Do you think it's important to share books by indigenous authors with our kiddos?
I'd love to hear what you think so drop me a line in the comments.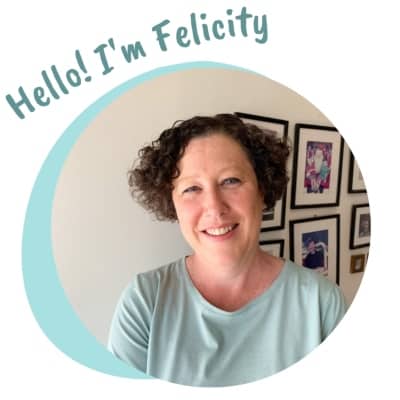 I'm Felicity - a parent to three young humans and a primary school teacher who loves books.
I'm passionate about helping parents discover the joy of reading to their little ones and I love helping you discover quality picture books to share with the babies and small humans in your lives.
I also create gift baskets and Little Book Gifts filled with the very best books for children from newborns to four-year-olds. You can check them out here.
SHOP OUR BOOK GIFT BASKETS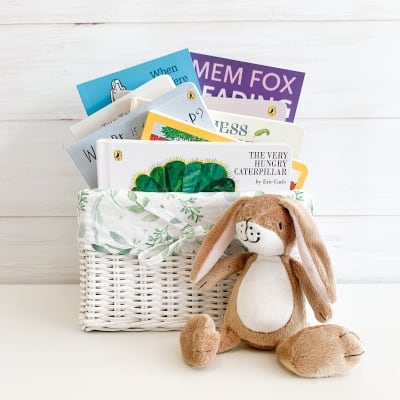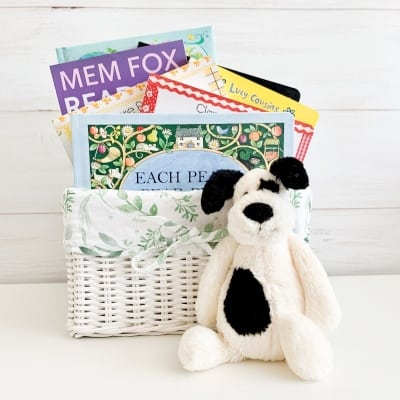 [et_bloom_inline optin_id="optin_1"]