Let's talk about giving books as a new baby gift.
If, like me, you love to read, books are probably your go-to gift for small humans. And, really, what could be more wonderful than giving a beautiful book to a new baby to start him or her on their reading journey?
When my twin sons were born (after a long and difficult labor), my aunt came to visit me, bringing with her a gift from one of her work colleagues – a Little Golden Book. I actually didn't know the work colleague – we'd never met – but this lovely lady wanted to give my boys their first book gift. How lovely is that?
Book gifts are special and they're my go-to gift for most occasions but there's something really special about giving a book as a gift to a newborn baby. It's as if – and I guess this is always my hope – you're playing a role in getting them started on their life-long reading journey. 
But how do you choose the perfect book for a new baby gift?
There are loads of beautiful books out there but the five books I'm about to tell you about are all wonderful choices. All are available in various formats, including board books, which I always think are a great idea for small people. (The links on this page will take you to the board book version of each book, should you wish to buy one). Being able to handle – and even chew! – their own books is an important part of getting to know and fall in love with books and board books can withstand a fair bit of handling and chewing.
So give one, or two or all five if you'd like to gift the little one with their first library. Whichever books you choose, you can be assured your gift will help to create precious childhood memories for the family and their new baby.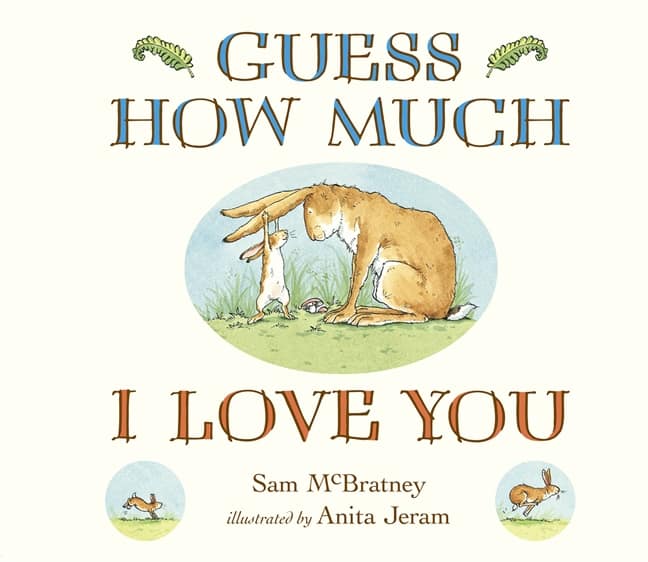 1. Guess How Much I Love You
Guess How Much I Love You are the words Little Nutbrown Hare says to his father as he's getting ready for bed and they lead to a lovely discussion between father and son about how much they love one another.
First published in 1994, this is a gentle little story which celebrates the love between parent and child. It's perfect for reading to babies from the day that they're born and, read at bedtime, becomes part of a comforting and treasured bedtime routine. In both gift baskets a cute Little Nutbrown Hare soft toy is included. 
I read Guess How Much I Love You to my  three children and it's now my favourite book to give as a new baby gift. It's available in hardcover, paperback and board book formats and I really recommend the board book version. The one I buy is a larger-format one with a gorgeous, thick cover. This is the board book version which is included in two of the book gift baskets I sell – the Baby's First Library Gift Basket and the Bedtime Gift Basket. In both gift baskets a cute Little Nutbrown Hare soft toy is included.
If you're looking for a new baby gift which will be loved and appreciated for years to come, you really can't go wrong with a board book copy of Guess How Much I Love You and a Little Nutbrown Hare toy.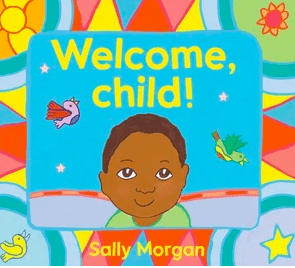 2. Welcome, child!
Welcome, child! is a 2021 release from Australian indigenous author and illustrator, Sally Morgan. I love Sally's bright, colourful illustrations and have been waiting for this book for a while.
Welcome, child! is a simple, beautiful celebration of the love we feel for a new child and it's the perfect gift for a newborn baby. The text is really lovely and it's beautifully complemented by the bright, joyful illustrations of happy birds, dancing stars and hearts that shine. 
Birds sing songs of delight to greet you.
All our hearts shine with love for you. Welcome, child!
If you're looking for a small but special gift for a new baby, this wonderful little board book might just be it.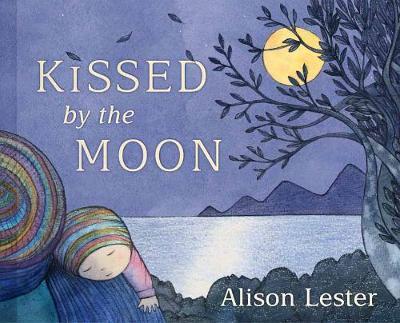 3. Kissed by the Moon
Kissed by the Moon is another beautiful book by Aussie picture book author Alison Lester.
With the feel of a poem or, perhaps, a lullaby, it's a gentle, moving story that celebrates a baby's wonder at our beautiful world. Alison Lester's illustrations showing a baby discovering the world are just gorgeous and I can almost guarantee tears as the new parents read this book to their little one.
May you, my baby, sleep softly at night, and when dawn lights the world, may you wake up to birdsong.

4. On the Day You Were Born
On the Day You Were Born has been around for nearly 20 years and is regarded as a classic when it comes to books to give as a new baby gift.
The thing I love best about this book is that it connects the new child to the world – to the animals, plants and forces of nature such as gravity. This book was not around when my own children were small and it's a relatively recent discovery for me but I really love how reading it aloud seems to anchor the child with a sense of belonging to the natural world around us.
On the eve of your birth
word of your coming 
passed from animal to animal.
The reindeer told the Arctic Terns,
who told the humpback whales,
who told the Pacific salmon …
5. Wherever You Are
The message of Wherever You Are is 'you are loved and will always be loved'. This is a message children need to hear over and over again and hearing it at bedtime helps reassure them and calm their nervous system, ready for sleep. With this message at its core, Wherever You Are is the perfect bedtime read-aloud and another wonderful book to give as a new baby gift.
Written in lyrical, rhyming verse, the words and the simple but enchanting illustrations in this book combine beautifully to describe the power of love and how it's always near, no matter where one is. 
The book begins:
I wanted you more than you'll ever know,
so I sent love to follow wherever you go …

And its ends with these words:
You are my angel, my darling,
my star … and my love will find you,
wherever you are.
Do you give books as new baby gifts?
Have I missed one of your favourite books?
I'd love to hear what you think so drop me a line in the comments.
Hello!
I'm Felicity. I write about children's books and reading and about their potential for enriching the lives of young humans.
I review picture books, board books and sometimes books for older children.
As well as being a lover of all things to do with books and reading, I'm a mum of three young adults and a primary school teacher. I also create gift baskets filled with the very best books for children from newborns to four-year-olds.
Welcome. It's nice to meet you.