ABOUT THE BOOK BASKET COMPANY
Our passion at The Book Basket Company is creating wonderful book gifts for babies and young children to encourage a love of reading.
We know it's never too early to start building a love of stories and books so we create gift baskets filled with a selection of carefully-chosen, high-quality books and deliver them all around Australia.
Our beautiful gift baskets and Little Book Gifts are a perfect choice for a baby shower gift, new baby gift or as a gift for a baptism or baby-naming celebration. They also make fantastic birthdays gifts and "I love you" gifts for small humans, especially if you can't get to see your precious little ones in person as often as you'd like.
Why choose a gift from The Book Basket Company?
Giving one of our book gift baskets means you're giving the gift of reading and that's a gift that lives on for a lifetime.
Literally thousands of research studies over the years have shown – and continue to show – that reading aloud to children from their earliest days is a crucial factor in helping them develop the language and literacy skills they'll need to do well at school.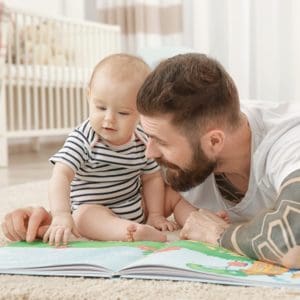 The same studies show that it's never too early to start reading aloud. Even tiny babies enjoy being read to and there's pretty much nothing more wonderful than snuggling up with a little one to enjoy a story together.
It can be hard to choose really great books for babies from among the many books in print but when you buy one of our book gift baskets or Little Book Gifts, The Book Basket Company has done the research and the choosing for you!
The books we include in our baskets have been chosen because they are lovely to read, beautifully illustrated and because the language they use is so very much what babies need to hear and enjoy listening to.
Many of the books are written in rhyme, others use language that incorporates a lovely rhythm. Babies' brains are hard-wired to respond to language like this and it helps them, even when they're tiny, to tune in to the sounds of spoken language. This is the first stage in the process by which babies develop language and helps to promote brain development.
Some of the books in our book baskets are newer titles and some are those which have stood the test of time. All are tried-and-true favourites, books that have been loved by children the world over, sometimes – like When We Were Very Young and The Tale of Peter Rabbit – for generations.
The books come beautifully displayed in their own cute and sturdy basket which is a great place to store the books at home. This is important because it makes it easy to keep the books close at hand so Mum or Dad can pick one up and read to their little one at any time during the day.
All our book baskets include a copy of Mem Fox's book Reading Magic, an easy-to-read book for parents about the benefits of reading aloud plus a cute soft toy.
In addition to being lovely for little hands to hold while listening to the stories, each soft toy relates to one of the books in the book basket. This provides an opportunity for little ones to connect the words they're hearing to the toy they're holding which in turn helps to develop their clever brains.
If you're buying one of our gift baskets for a new baby or for a young child, you can be sure that your special little one will love these books and that they will provide many hours of enjoyment.
The Book Basket Company is owned and managed by me, Felicity, and we're based in the northern suburbs of Sydney.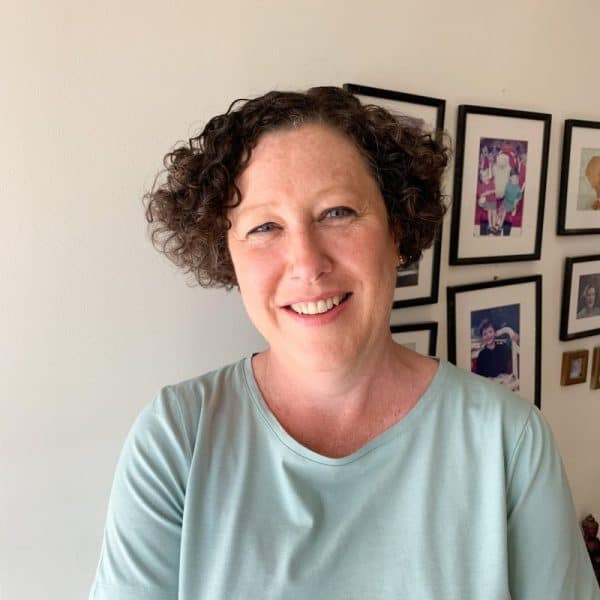 I'm a primary school teacher and mum to three young adults and I choose the books, create the gift baskets and regularly blog about all things to do with reading aloud and books for children. I also carefully pack each gift basket and send it on its way to you or to the recipient of your gift.
My love of books and reading goes way back to my childhood when my mum used to read aloud to my sister and I at bedtime.
That started a life-long passion which grew to include a strong interest in children's literacy when I was pregnant with my twin sons in 1994 (that's me with my boys in the photo below, reading one of their favourite Alfie books. They are two-and-a-half here.)
I loved reading aloud to my boys (and later to their sister, too) and was fascinated by how avidly they all soaked up language and stories and how this fed into the learning-to-read process when they started school. Watching this development with my five nephews has also been a joy.
Back in 1995 it was actually quite hard to find good books for very young children. There were a few around but there were also a great many not-so-interesting books pitched at babies and toddlers. Internet shopping was not yet a thing and there wasn't the wide variety of wonderful picture books which exist today. Ferreting out the really worthwhile ones became a bit of a mission for me and it quickly grew into a passion.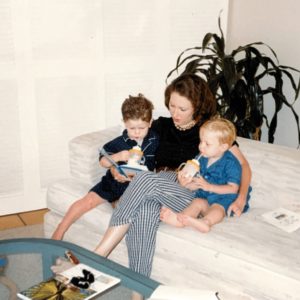 Along the way, I found that, although most of us know that reading to children is important, many people don't realise that even very young babies benefit hugely from being read to. In fact, it's never too early to start reading aloud to your child. Some people even begin on the day their baby is born!
But perhaps most importantly, snuggling up to listen to a story with a loving adult helps children feel safe and loved and is a very precious experience for babies and  young children.
Since becoming a primary school teacher and teaching across a number of schools, I am even more convinced that reading to children from their earliest days is the key to building strong language and literacy skills and to their success at school. When their reading and oral language skills are strong, all other learning tends to flow with ease. I see this every day in the classroom.
And so the idea for The Book Basket Company was born. I've been creating and sending out book-ish gift baskets for nearly 10 years now and I love what I do. I still teach in primary schools a couple of days a week and really enjoy connecting with the children I teach and sharing my love of books and reading with them.
I love to chat so, if you have any questions or comments, please email me at [email protected]
Happy reading,
Felicity
XX
The Book Basket Company
ABN: 753 2427 0707 
Registered Trading Address:
12 Attunga Avenue
West Pennant Hills NSW 2125
Australia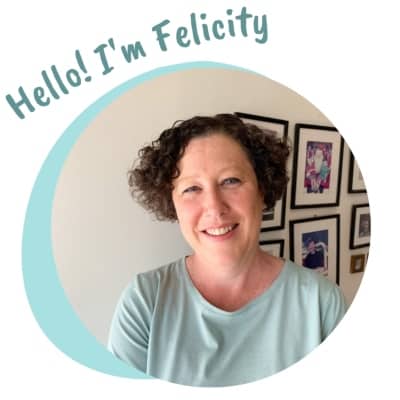 I'm Felicity - a parent to three young humans and a primary school teacher who loves books.
I'm passionate about helping parents discover the joy of reading to their little ones and I love helping you discover quality picture books to share with the babies and small humans in your lives.
I also create gift baskets and Little Book Gifts filled with the very best books for children from newborns to four-year-olds. You can check them out here.
SHOP OUR BOOK GIFT BASKETS