Easter gift ideas for babies, Easter gift ideas for toddlers
Updated 12 March 2023
In 2023, more and more parents and grandparents are looking for Easter gift ideas for kids that are a bit different from the usual chocolate eggs and bunnies.
Not that there's anything wrong with chocolate, of course (I'm a big fan), but children do tend to be given a lot of chocolate over the Easter break and giving an Easter gift of the non-chocolate variety can be a good way of diluting the inevitable, seemingly-endless flow of chocolate which happens in many homes.
So on this page, I'm sharing a few thoughts about why you might choose to look for non-chocolate Easter gift ideas for kids – especially for babies and toddlers but also for older kiddos. And I'm following that up with some ideas about what you might like to buy instead in the form of a list of my 6 favourite Easter gifts for kids which don't involve things to eat.
I hope you find it helpful.
Why look for different Easter gift ideas for kids, babies and children?
Here are five reasons why you may prefer to seek out non-chocolate Easter gift ideas for your grandchildren or children:
1. Your little ones are very young and chocolate is not yet a part of their diet.
It can be good to delay introducing sweets and sugary foods to babies and there's really no need for them to have chocolate when they're very young. When my twin sons were babies, we made a conscious decision not to give them chocolate until they were a bit older and they were over two before they had their first taste of chocolate. However, in the interests of full disclosure, their younger sister had tasted it well before her first birthday. Such is the fate of younger siblings.
2. Your child is allergic to foods which contain dairy products.
'Nuf said. 🙂
3. You know your child – or grandchild – will receive lots of chocolate from other people over the Easter period and you'd like to dilute this a bit.
Speaking from many years of experience as a parent, this is my main motivator for seeking out different Easter gift ideas for kids. Children these days tend to get Easter eggs at school, pre-school and daycare, from relatives, friends and even at some churches. One less dose of chocolate can only be good. I even think children get a bit sick of all the Easter eggs sometimes simply because the novelty value wears off after the first day or so. Which leads me to my fourth point.
4. You'd like to give a gift that's a bit different and lasts for longer than it takes a child to eat an Easter egg.
A non-chocolate Easter gift is thoughtful and the suggestions on this page have the advantage of longevity. A soft toy, a book or some special Easter pyjamas will be used and enjoyed for months or years, rather than for just the few minutes it takes for your little one to eat a chocolate egg or bunny.
5. You'd like to create a family Easter tradition for your family that doesn't involve chocolate.
This one is a really sweet idea and one I wish I'd thought of when my children were small. And you can do it with any gift. What about creating an Easter tradition whereby you give the gift of new pyjamas to your children or to your grandchildren? Some families even buy matching PJs for every family member – adults and children alike! Or you could give a thoughtfully-chosen book and write a special message in it. There are loads of ideas so why not get creative and think about starting your own Easter gift tradition for your family?
The 6 Best Easter gift ideas for kids (that aren't chocolate)
1. Easter Art Projects for Kids
If you're looking for Easter gift ideas for grandchildren or children who love art and crafts, why not put together an Easter-themed art kit? I found these little kits at my local Kmart and I've also seen quite a few options online. Add some textas, gel pens, coloured pencils or paints (these are sometimes included in the kits) and you've got an activity that'll keep your little people happy for hours over the Easter break.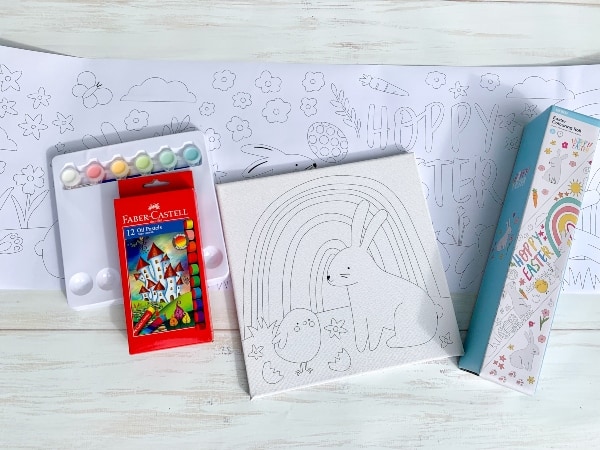 Easter falls at just the time of year when the weather is changing which makes a new pair of PJs a fun Easter gift. In Australia, the weeks leading up to Easter coincide with the arrival in the shops of all the cosy winter pyjamas so giving your children or grandchildren new PJs for Easter is a lovely idea. Even more so if you make it a tradition. The pyjamas don't have to be Easter-themed, of course, but you'll find lots of options featuring bunnies at this time of year. Since books are my thing, I was delighted to see some book-themed pyjamas in the shops this year. And I found three pairs which feature my favourite book characters: Hairy Maclary (from Donaldson's Dairy), Little Nutbrown Hare (from Guess How Much I Love You) and Peter Rabbit! I found these pyjamas at Big W and Peter Alexander. Aren't they gorgeous?
Books are my thing and they're my go-to gift for pretty much every occasion. And Easter is no exception. If your family is of the Christian faith, you'll find many, many Easter books for kids which tell the story of Jesus's death and resurrection in an age-appropriate way. On the other hand, if you family adopts more of a secular approach to celebrating Easter, you'll also find an extensive selection of picture books and board books celebrating the Easter bunny, Easter egg hunts and the advent of spring.
As I've written in a previous blog post here, I have a slight problem finding what I think are "good" (ie worthwhile) Easter books for children. Almost all the Easter books for children I've read over the years talk about spring and the well-known symbols of spring such as flowers and baby animals and this can be confusing for Australian children. Nevertheless, there are some cute Easter-themed books you might like to consider, some of which make an appearance in the Easter Gift Basket I sell on this website.
If you'd like to put together your own book gift basket – or an Easter gift basket containing a book or two along with other gifts – you might like to consider the books shown here. If you'd like to follow the rabbit theme, The Tale of Peter Rabbit and Guess How Much I Love You are fun choices. Team them with a cosy pair of matching pyjamas for a really lovely and unique Easter gift for the little one in your life.
For a more extensive list (and descriptions) of the best Easter books for kids, you may like to check out my list of the 17 Best Easter Books for Children.
These cute bunny slippers are so, so soft and absolutely adorable, as you can see. They're from Peter Alexander but many shops have similar Easter-themed winter slippers for little ones. One of the best – and more budget-friendly – Easter gift ideas for kids.
If you're looking for a super-cute soft toy to give as an Easter gift, you really can't go past a Jellycat Bunny. The adorable Jellycat Bashful Bunnies are deliciously soft and a delight to cuddle, for adults and children alike. They're very popular Easter gifts and a Jellycat bunny is included in each of our Easter Gift Baskets, along with a selection of very sweet Easter board books. The Jellycat bunnies come in a large range of colours and in a few different sizes but these three small bunnies are my favourites. Of course, there are other Easter soft toys around which also make lovely non-chocolate Easter gifts for little ones. But the Jellycat Bashful bunnies are hard to beat!
My final suggest if you're looking for non-chocolate Easter gift ideas for kids is an Easter gift basket or hamper. If you'd like to buy one, there are plenty of options to choose from online. Or you can create your own Easter gift basket, using the ideas in this post and adding some of your own. Creating your own gift basket allows you to tailor your gift to the interests of the recipient and, of course, to your budget.
Here are some examples of things you might consider including:
a soft toy;
an Easter activity book and coloured pencils;
one or more Easter story books;
Easter slippers and/or pyjamas;
I hope you've enjoyed reading about my favourite non-chocolate Easter gift ideas for kids. If you're on Instagram, please do come and share your favourites and tag me @thebookbasketco so I can see!
To save this post for later, pin the image below:
Over to you
Do you give gifts to your children or young relatives at Easter?
Do you have a favourite non-chocolate Easter gift for kids?
I'd love to hear what you think so drop me a line in the comments.
ABOUT THE AUTHOR
Felicity is a mum of three young adults and a primary school teacher in Sydney, Australia. Passionate about children's literacy and about the potential of books and reading for enriching young lives, she also creates and sells cute, clever book-ish gifts and gift baskets for little ones. Check out her Book Gift Baskets and Little Book Gifts.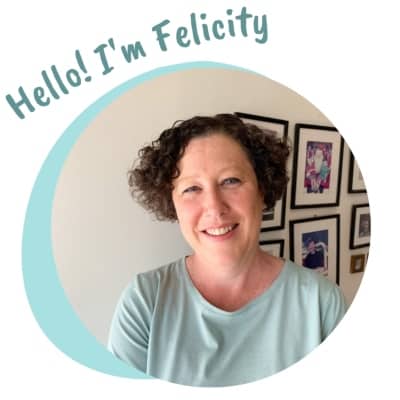 I'm Felicity - a parent to three young humans and a primary school teacher who loves books.
I'm passionate about helping parents discover the joy of reading to their little ones and I love helping you discover quality picture books to share with the babies and small humans in your lives.
I also create gift baskets and Little Book Gifts filled with the very best books for children from newborns to four-year-olds. You can check them out here.
SHOP OUR BOOK GIFT BASKETS