Fun lift-the-flap board books for 1-year-olds and 2-year-olds
Lift-the-flap books can be fun for babies and young children of various ages but the age group which really, really loves these books is 1-2-year-olds.
And there's a simple reason for this. Developmentally, one-year-old and two-year-old kiddos are at the stage where they're learning to use their bodies and delighting in all the things they can do. This is the "I do it!' age when children want to investigate and try everything. They absolutely love making things happen and seeing what the results will be and it's important that we allow them to do this because they're effectively learning about the word and how it works. This kind of cause-and-effect learning is very important for brain development, helping them make critical neural connections and creating the building blocks for further learning.   
Children's brains and bodies know exactly what they need to grow into healthy, confident humans so it makes sense that using their hands to lift the flaps in these books and discovering what might be underneath the flaps is instantly appealing to these busy little people. 
Doing things on their own – making something happen – builds a sense of competence and confidence in your child. Think about how you feel when you encounter a new challenge and successfully make whatever it is happen. You feel a sense of achievement and happiness which is exactly how your baby feels when they lift the flaps in a book.
Reading lift-the-flap books with your child
If you haven't yet introduced your little one to lift-the-flap books, you're in for a treat! The first time you read one, hold your baby in your lap and use the tone of your voice to really build the anticipation about what might be underneath the flap. You'll need to open the first flap yourself to model how it's done and perhaps loosen the flaps a little if it's a new book so your child can open the next flap on their own. 
Lifting the flap for themselves is actually quite a tricky thing for little fingers to do, as you'll see when you watch your little one working out how to do it for the first time. Try to be patient and allow him or her to do it without giving in to the impulse to help (hard to do sometimes, I know!) Working it out for themselves enables children to practise their fine motor skills and builds their confidence as they tackle – and master – this new challenge.
Reading lift-the-flap books with your child is also helpful from a literacy-learning perspective. While your child can't yet read the words in the book, lifting the flap themselves enables them to tell part of the story by showing you what's under the flap and naming it for you. This is actually an exercise in joint reading, with the two of you sharing the story-telling. How great is that?
Choosing good lift-the-flap books for 1-2-year-olds
As with all types of books, for children and for adults too, there are some worthwhile lift-the-flap books for little ones and some that are, to be honest, pretty terrible.
So how do you choose?
The first thing to do know is that there's a whole genre of lift-the-flap books which are information (non-fiction) texts designed for older children. Many of these are really good books but they're not usually suitable for – or of any interest to – the 12-24-month-old age group. There are, for example, some great lift-the-flap books about the human body, about insects and about the environment. The concepts and amount of text in these books mean they're usually of more interest to 4-7-year-olds.
Lift-the-flap books for 1-2-year-olds usually feature a very simple story, sparse text and bright, simple illustrations. They often involve a mystery or dilemma of some kind which the child tries to solve or figure out by investigating what's under the series of flaps in the book.
Here are the things I look for in lift-the-flap books for 1-2-year-olds:
repetition. Children at this age love repetition because it helps them predict what might be going to happen next. It also provides an opportunity for them to practise their rapidly-developing language skills and makes the story into a bit of a game;
durability. Some lift-the-flap books are board books and the flaps on these are likely to last longer than the ones in other books. Whenever I can I buy the board book;

a simple story based on a theme little ones love. Books featuring animals are always popular with this age group, as are books which include objects and experiences which are a familiar part of a child's day-to-day life; 

humour. One- and two-year-olds love humour and enjoy pointing out the silliness in stories;
a dilemma or mystery of some kind. As with stories for adults and older children, this is what makes a story engaging as children wonder how the problem will be solved and lift the flaps to work it out;
In choosing what I think are the 10 best lift-the-flap books for 1-2-year-olds, I discarded quite a few that I thought were either too complex or just too silly to be worth reading. As children's authors like C S Lewis, Roald Dahl and Mem Fox have all said at various times, children – even very young children – are very discerning readers and will quickly let you know if they think a book is boring. As Mem Fox says: " … only the best is good enough for children – the best words in the best places, and the best characters in the best stories." I'm with Mem.
So here is my list of 10 really good lift-the-flap books. I hope you and your little one enjoy them.
Where's Spot? is one of my two favourite lift-the-flap books of all time. My own three children adored it and I've given it as a gift to way too many children to count. It's deservedly a classic and it's one of the most popular books in our Animal Friends Gift Basket. First published in 1980, this is the super-simple story of a mischievous little puppy who's hiding from his mum. Children love joining the hunt, lifting the flaps to find all sorts of funny animal surprises, as Spot's mum looks all over the house before discovering where cheeky Spot has been hiding. The simple, sparse text and very simple drawings make this a delightful book to share with little ones.
I also love the story of how Eric Hill created Where's Spot? which is the first book in a series of Spot books. At the time, Hill was working in creative marketing and noticed that his three-year-old son was fascinated by the process of lifting up a paper on a design he was creating. This led to him creating a story about a puppy which incorporated the flap design, an extraordinarily innovative concept in those days. It took some time for any publisher to take any notice of the idea but eventually Puffin Books decided to publish the book. It was an immediate hit, quickly became a best-seller and has been translated into over sixty languages. his book. You honestly can't go wrong with this book.
2. Who's Hiding On The Farm?
Who's Hiding On The Farm? is a 2022 release by German illustrator and animator, Axel Scheffler. Scheffler is based in London and is probably best known for illustrating books like The Gruffalo and The Gruffalo's Child. In Who's Hiding On The Farm? children are invited to help Little Chick look for Mummy Hen by lifting a series of felt flaps to see where she is. The flaps are soft and easy for little hands to lift, providing tantalising glimpses of all the animals hiding underneath. This is a great first lift-the-flap book for babies because the felt flaps are harder to tear than paper ones and they're easier to lift. Older babies and toddlers love guessing which animal is under the flap before they lift it up. 
3. Eric Carle's Twinkle, Twinkle, Little Star and Other Nursery Rhymes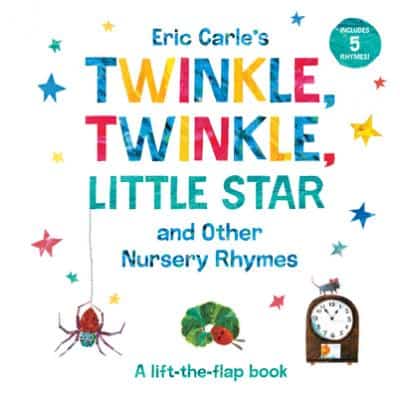 This colourful, larger-format board book is a lovely way for babies to discover – or revisit – five classic nursery rhymes. Little ones lift the flaps to discover the last line of each nursery rhyme:
Twinkle Twinkle Little Star
Old MacDonald Had a Farm
Hickory Dickory Dock
The Itsy-Bitsy Spider
Five Little Monkeys Jumping on the Bed
One of the atttractions of this book for me is Eric Carle's distinctive and instantly recognisable illustrations. His artwork is created using a collage technique, starting with hand-painted papers which he cuts and layers to form bright and cheerful images. We first saw this in Carle's first book, The Very Hungry Caterpillar, who makes an appearance in this book too!
Dear Zoo is one of my two favourite lift-the-flap books of all time. Like Where's Spot? my own three children adored this book and I've given it as a gift many, many times over the years. It's deservedly a classic and, again, like Where's Spot? it's one of the most popular books in our Animal Friends Gift Basket. First published in 1982, Dear Zoo has been a firm favourite with toddlers and parents alike ever since.
Author and illustrator Rod Campbell says he was inspired to write Dear Zoo by seeing other early lift-the-flap books, such as Where's Spot? and wanted to incorporate the flaps into a story so that they made sense. Campbell was raised in Zimbabwe and thought of explorers many years ago sending animals to zoos in crates. This inspired him to create the structure of each flap being a container holding a different animal.
 Like all good lift-the-flap books, this story is super-simple. A child writes to a zoo to ask for a pet. A series of animals is sent but each one is too something (noisy, big) so the child sends it back. Young children love lifting the flaps to discover the animals the zoo has sent and love the ending where the zoo finally sends the perfect pet. The bright, bold artwork, repetition and inclusion of a host of favourite animals, make Dear Zoo the perfect lift-the-flap book. 
5. Jack and the Beanstalk
This lift-the-flap version of Jack and the Beanstalk is great fun and a wonderful way to introduce this classic fairy tale to young children. I always love a good rhyming book and the rhymes and rhythm in this book are delightful and a joy to read aloud. This is a fresh, modern and wonderfully witty take on the much-loved story, retold in a playful rhyme and accompanied by bright and funny illustrations. There are flaps to lift on every page so children can make the beanstalk grow up into the clouds, open the doors to the giant's castle and watch his feet pop up out of the compost heap as he comes tumbling down from the sky!
The other books in the series are:
The Three Little Pigs
Cinderella
Little Red Riding Hood
The Three Billy Goats Gruff
Goldilocks
If You Were Spaghetti is a fun book about love which celebrates the connection between a parent and their child. It's a joyful, hilarious way of reassuring the little ones in your life that you love them and will always be there for them, just like the classic pairings of spaghetti and meatballs, bathtubs and bubbles and ice-cream and sprinkles. The artwork in this book really is gorgeous and two-year-olds especially will love lifting each flap to see what goes with each different kind of food. This is actually a lovely way to build children's knowledge about the world and their understanding about how some things typically go together.
If you were spaghetti … I'd be a meatball! 
If you were ice-cream … I'd be sprinkles!
I'm not generally a fan of books created from TV shows but Bluey is an exception. In case you're not familiar with it, Bluey is an award-winning pre-school show here in Australia about Bluey, a blue heeler pup and her family. Airing on ABC KIDS, the show has amassed legions of dedicated fans and is hugely popular with parents, as well as children. In this cute lift-the-flap book, Bluey and his family are spending a day at the beach. While Mum is off for a walk along the beach, Bluey discovers a beautiful shell and runs to show Mum. But Mum is a long way away and on the way to catch up with her Bluey encounters lots of interesting creatures. This book has quite a bit more text than the other lift-the-flap books I've written about on this page and 2-3-year-olds will most likely enjoy this book more than younger children. Having said that, if your little one likes Bluey, he or she will love looking at the pictures and exploring the book with you, even if the actual story is a little beyond them. 
8. Baby's First Farm Animals
Baby's First Farm Animals follows a similar concept to Who's Hiding On The Farm? Children are invited to help find out who is making each animal noise by lifting a series of felt flaps. The flaps are soft and easy for little hands to lift, providing tantalising glimpses of the animals hiding underneath. This is a great first lift-the-flap book for babies because the felt flaps are harder to tear than paper ones and they're easier to lift. Older babies and toddlers love guessing and telling you which animal is under the flap before they lift it up. The main thing I like about this book is that it uses photos of the animals, rather than illustrations. Repetition and the animal noises make it a really fun books for even young babies.
SHHH! is an award-winning book with a much broader appeal than most lift-the-flap books. Children up to about 5 love it as much as younger children and, if you're a teacher, it's a great book to share with a group or a class of children. The story invites children to enter a giant's castle but they have to be very quiet so they don't wake the giant. The challenge is to get through the book without waking up the enormous scary giant and there's lots of opportunities for building the anticipation, with flaps and peepholes that enable young readers to check that the giant is still asleep. SHHH! has been around for 30 years now and still enormously popular which pretty much says it all. 
10. Lift-the-flap Counting Book
My children loved a good counting book when they were small and this Lift-the-flap Counting Book from Usborne is a good one to go for if you're looking to buy one for your child or as a gift. It's a straightforward counting book which is beautifully illustrated and comes in a larger format than most lift-the-flap books, which I really like. One-year-olds and two-year-olds love counting things and with this book they really enjoy lifting the flaps on each page to reveal a number of objects or animals. Bright illustrations of familiar objects and animals make this an appealing book, particularly for this age group.
Shop our book gift baskets for babies and young children:
Hello!
I'm Felicity. I write about children's books and reading and about their potential for enriching the lives of young humans.
I review picture books, board books and sometimes books for older children.
As well as being a lover of all things to do with books and reading, I'm a mum of three young adults and a primary school teacher. I also create gift baskets filled with the very best books for children from newborns to four-year-olds.
Welcome. It's nice to meet you.
To save this post for later, pin the image below: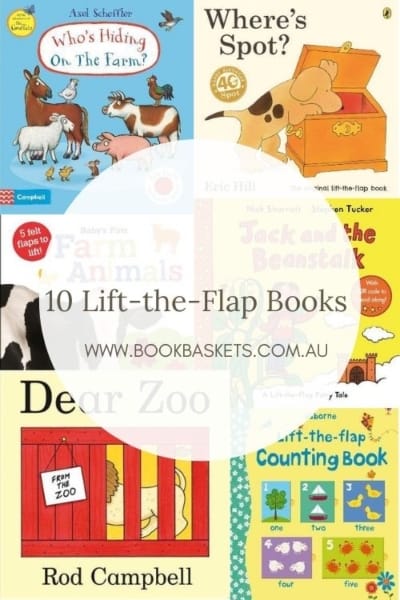 Do you celebrate St Valentine's Day with your children or with the children you teach?
Do you have another book about the origins of Valentine's Day to share?
I'd love to hear what you think so drop me a line in the comments.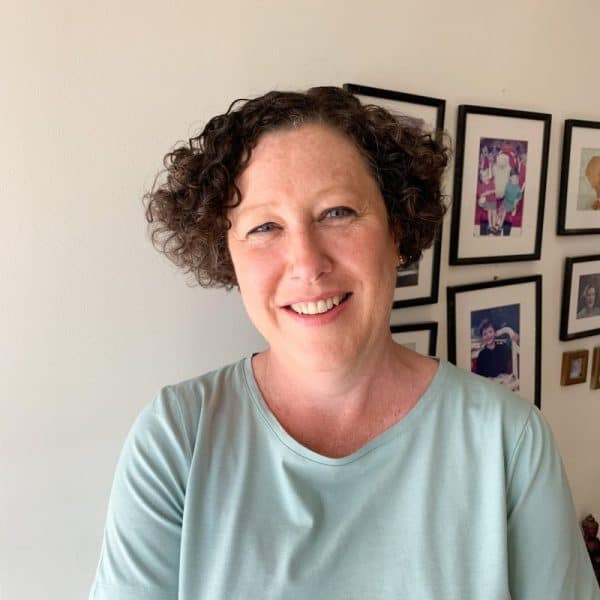 I'm Felicity, a mum of three young adults and a primary school teacher in Sydney, Australia. I'm passionate about children's literacy and about the potential of books and reading for enriching young lives, starting in infancy. As well as sharing my favourite books on this blog, I also create and sell gorgeous book-ish gifts for little ones. You can check out my Book Gift Baskets here. Or you can just click on the tabs at the top of the page.
The Book Basket Company is situated on Dharug land. We acknowledge the Traditional Owners of this land, the people of the Dharug nation, and pay our respects to Elders past, present and future.