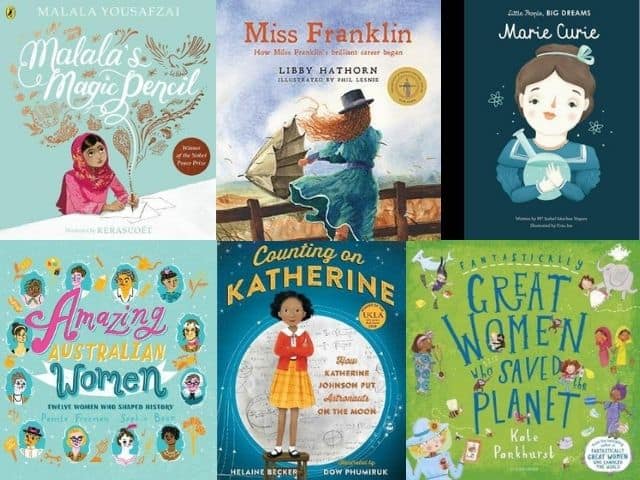 10 picture books to read for International Women's Day
Are you looking for International Women's Day books for kids? International Women's Day is on Monday 8 March and I've got ten great books for you to share with your children to help kick-start a discussion about this important day.
So why do we have an International Women's Day?
Throughout history, as human beings have sought to push the boundaries of knowledge and exploration, women have been at the forefront of major discoveries in all fields of human endeavour. But for a long time their stories were simply not told and many of their achievements were unknown until relatively recently. Enter International Women's Day, a global day on which we celebrate the social, economic, cultural and political achievements of women.
International Women's Day is about celebrating the achievements of women around the world in all sorts of different endeavours and fields. It also aims to increase the visibility of women, raise awareness against bias and to advocate for equality, while calling out inequality.
Why do we celebrate International Women's Day on 8 March?
On 8 March 1908, thousands of female textile workers held a march in New York City, calling for reduced working hours, an end to child labor and the right to vote. Their march marked the beginning of an enthusiastic feminist movement within the United States which gathered momentum when middle-class women joined the wave of demands for equality and equity.
In 1909, American women joined together to commemorate the demonstrations in New York and pushed European countries to designate 8 March as Women's Day.
Why share books about International Women's Day with kids?
Some of the books on this list are about individual women who have achieved great things and who worked – or are still working – to make our world a better place for all of us. Others are picture books which seek to inspire girls with the message that they can follow their interests and create fulfilling, exciting lives for themselves, whatever that might look like for them. Some are about Australian women; some are about women of other nationalities.
I hope you enjoy sharing my favourite International Women's Day books for kids with children or with the children you teach.
1. Miss Franklin
Stella Miles Franklin was an Australian author and feminist who has had a long-lasting impact on Australian literary life through her endowment of the Miles Franklin Award, a major annual prize for literature and Australia's most prestigious literature prize.
Miles Franklin's best-known book is My Brilliant Career which was published in 1901 with the assistance of Henry Lawson. In 2013 a another literary award, the Stella Prize, was created to recognise Franklin's contribution to Australian literature. The prize is awarded annually for the best work of literature by an Australian woman.
Miss Franklin tells the story of how Stella came to be a writer, at a time when it was difficult for women to pursue a career of their own choice. As a teenager, she was forced to work to help support her family and spent a brief but formative period working as a governess in rural New South Wales.
Lonely, unhappy in her job and longing for the freedom and excitement of city life, Stella meets a young orphan girl, Imp, who, like Stella is feisty and ambitious. As Stella teaches Imp to read, Imp encourages Stella to follow her dream of becoming an author.
Suggested for ages: 5 – 12 years
2. Malala's Magic Pencil
Malala Yousafzai is a Pakistani woman who spoke out publicly on behalf of girls in Pakistan whose right to attend school and learn had been removed by the Taliban. In 2012, when she was 15, Malala was targeted by the Taliban and shot in the head to stop her from continuing her campaign in favour of the right of girls to learn alongside their brothers.
Malala's Magic Pencil tells the story, in Malala's own words, of how she came to be an advocate for women and girls in her country. She describes her childhood and her father's belief in the importance of educating girls and shows them the worldview that allowed Malala to hold on to hope and to make her voice heard even in the most difficult of times.
Suggested for ages: 5 – 12 years
3. Little People, Big Dreams: Marie Curie
The Little People, Big Dreams series is a series of biographies for kids about men and women whose work in various fields of human endeavour has helped make the world a better place for us all. Marie Curie was a Polish-French physicist and chemist who conducted pioneering research on radioactivity, beginning in the 1890s. 
Marie was initially unable to attend university because she couldn't afford the tuition fees. Tackling the field of scientific research which was then the domain of men, she was the first woman in France to be awarded a PhD, the first woman to win a Nobel Prize and the first woman to win a second Nobel Prize. Her discoveries of radium and polonium were important steps in the fight against cancer.
This appealing book tells the story of Marie's life and discoveries, with cute, quirky illustrations and extra facts at the back, including a biographical timeline with historical photos and a detailed profile of the scientist's life.
Suggested for ages: 5 – 10 years
Other titles in this series that are worth checking out for International Women's Day include:
Malala Yousafzai
Dolly Parton
Greta Thunberg
Frida Kahlo
Evonne Goolagong
Jane Austen,
Jane Goodall
Audrey Hepburn
Ada Lovelace
Ruth Bader Ginsburg
Emmeline Pankhurst
 4. Fantastically Great Women Who Saved the Planet
Kate Pankhurst, the author and illustrator of this book, is a descendent of Emmeline Pankhurst, the British political activist who is best remembered for organising the UK suffragette movement which helped women win the right to vote. Her fun and accessible book is presented as a series of stories about women who have been making decisions that have helped protect our natural world long before it was on any political agenda. Included are women like Anita Roddick, Greta Thunberg and Jane Goodall. As well as being colourful and engaging, this book is the perfect balance of text and illustration which makes it appealing to a wide range of ages – older kiddos as well as younger children. Ultimately, these are encouraging stories of hope and inclusion, showing that we all have a part to play and that all actions, big and small, can be powerful in the fight against climate breakdown.
Suggested for ages: 5 – 12 years
Other titles in this series that are worth checking out for International Women's Day include: Fantastically Great Women Who Worked Wonders
Fantastically Great Women Who Made History
Fantastically Great Women Who Changed the World
5. This Girl Can
This simple book is a playful, inclusive journey through all the different jobs girls can do. With rhyming text and bright, engaging illustrations, it's an easy read-aloud for younger kiddos and a great conversation-starter for slightly older children. The message is that a girl can be anything: a pilot, a firefighter, a film director, a vet, a racing car driver and many, many other things.
Suggested for ages: 3 – 8 years
6. A Girl Like You
This lovely book speaks directly to the wonderful girl reading it or listening to it. It reminds her that she is a wonder, unique and that the world needs her. It encourages girls to embrace what makes them unique, to choose kindness, to make mistakes and persist and to be their own advocates. With gentle, uplifting words and beautiful, inclusive illustrations, it reminds them of all the ways to be beautiful, brilliant and uniquely themselves. I wish this book had been around when I was a little girl. Small me would have benefitted so much from these messages. The book is recommended for 4-8-year-olds but I think it has a wider audience, even if older girls might initially see it as a book for little ones.
Suggested for ages: 3 – 12 years
7. The Paper Bag Princess
The Paper Bag Princess is something of a classic. When it came out in 1980 it was revolutionary: a book that busted gender stereotypes and was accused by some of being 'anti-family'. Since then, generations of girls have fallen in love with this classic story of girl-power. When the fiercest dragon in the whole world smashes Princess Elizabeth's castle, burns all her clothes, and captures her fiancé, Prince Ronald, Elizabeth takes matters into her own hands. Using only her wits and with nothing but a paper bag to wear, the princess challenges the dragon to show his strength in the hopes of saving the prince. But in a surprising twist, it turns out that the Prince isn't quite the charmer that she thought he was. When Elizabeth finally rescues him, he doesn't even say thank you. Instead, he criticises her hair and clothing and will have nothing to do with her until she's dressed like a 'real princess'. The message is clear: our value lies not in our social position or in the clothes we wear but in our actions and in our choices.
Suggested for ages 4 – 7 years
8. Counting on Katherine
This is the story of Katherine Johnson, the mathematical genius who helped make the historic Apollo 11 moon landings possible and made sure that Apollo 13 returned home safely when the mission was in critical danger. As an African-American woman living and working in the USA in the 1960s, Katherine experienced systemic racism and sexism and her accomplishments as a prominent mathematician at NASA were largely ignored until fairly recently. This lovely biography was written with the assistance of Katherine and her family and begins with Katherine's childhood, when she discovered a love of numbers at a very early age. Although she wanted to become a research mathematician, as a woman such roles were out of her reach so she became a school teacher instead. The book follows her career at NASA, from her recruitment to her work on the Apollo 13 mission. Note that this book is quite text-heavy for a picture book. Don't miss the endpapers – they're wonderful!
Suggested for ages: 8 – 12 years
9. Amazing Australian Women
This is a bright and colourful book which looks at the lives of twelve Australian women who helped shape our country. It's a great introduction to the contributions women have made to Australian life and I suggest sharing it with boys as well as with girls. Although there are a few women who I think could have been included (Elizabeth Macarthur, for example), overall, I really like the choices the author has made about who to include in this book. Some of the women are famous around the world, like Annette Kellerman and Nellie Melba, while others, like Mary Reiby and Edith Cowan, are really only well-known to Australians. All paved the way for the women who are our artists, business owners, scientists, singers, politicians, actors, sports champions, adventurers, activists and innovators today.
The women featured in the book are:
Mary Reibey, convict and businesswoman
Tarenore, Indigenous resistance fighter
Mary Lee, suffragist
Nellie Melba, opera singer
Edith Cowan, politician
Tilly Aston, teacher, writer and disability activist
Rose Quong, actress, lecturer and writer
Elizabeth Kenny, nurse and medical innovator
Annette Kellerman, swimmer and movie star
Lores Bonney, aviation pioneer
Emily Kame Kngwarreye, artist
Ruby Payne-Scott, scientist
Suggested for ages: 5 – 10 years
10. Meet Nancy Bird Walton
This book is one in a fantastic series of books which introduces young people to some of the extraordinary men and women who have shaped Australia's history. Nancy-Bird Walton (her husband called her 'Nancy-Bird') was Australia's first female commercial pilot. Born in 1915, she decided at the age of 13 that she wanted to fly and she persisted, despite her father's opposition to the idea. At the age of 19 she became a fully qualified pilot, thereby also becoming the youngest Australian woman to gain a pilot's licence. This lovely book contains the most beautiful illustrations and tells Nancy's fascinating story simply and engagingly. It's one of my favourite Australian picture books.
Suggested for ages: 5 – 9 years
To save this post for later, pin the image below:
Over to you
Are you planning to celebrate International Women's Day with your children?
Do you have a favourite book about the achievements of women and girls?
I'd love to hear what you think so drop me a line in the comments.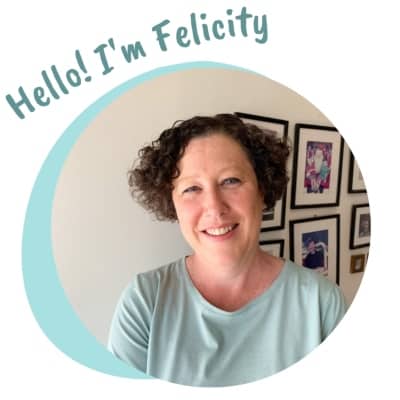 I'm Felicity - a parent to three young humans and a primary school teacher who loves books.
I'm passionate about helping parents discover the joy of reading to their little ones and I love helping you discover quality picture books to share with the babies and small humans in your lives.
I also create gift baskets and Little Book Gifts filled with the very best books for children from newborns to four-year-olds. You can check them out here.
SHOP OUR BOOK GIFT BASKETS