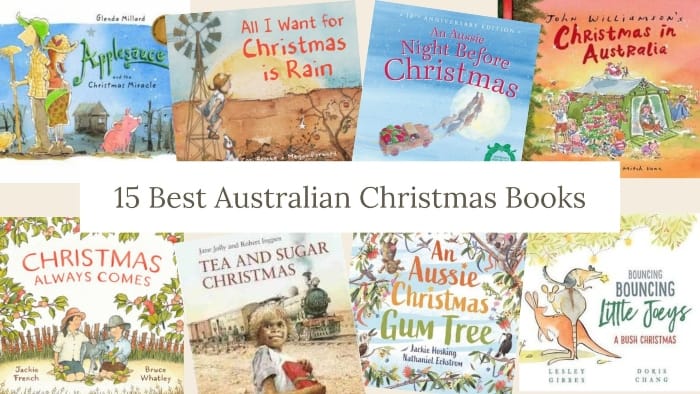 Picture books which show an Australian Christmas!
Australian Christmas books for kids are a relatively new idea.
Historically, because of our country's links to England and to Christian religious traditions, the Christmas traditions with which most of us grew up were those which originated in England and in Europe. The legend of Santa can be traced back hundreds of years to a monk named St Nicholas who was born sometime around 280 AD in an area which is now part of modern-day Turkey. Christmas trees originated in 16th-century Germany. And the idea of sending Christmas cards began in Victorian England in the 1840s.
So, until fairly recently, Christmas books for kids almost always depicted a northern hemisphere Christmas. Sleighs, coniferous Christmas trees and people dressed in furry jackets and boots singing Christmas carols in the snow proliferate in these books and, while I always enjoyed them as a child, I could never really relate to them because they didn't at all reflect the Christmases I had living in Sydney.
When my children were born in the 1990s, Australian Christmas books were still rare. In fact, I couldn't find any at all to share with my twin sons! Thankfully, in the years since then, some really lovely picture books have emerged which depict an Australian Christmas, with the sunshine, swimming, barbeques and outdoor play we're lucky enough to enjoy in December.
So it's been my very great pleasure to gather together these 15 wonderful Australian Christmas books for kids. I hope you and your children enjoy them.
Sharing Australian Christmas books with children
One of the many wonderful things about reading aloud to our children is that it creates opportunities for talking about interesting ideas. So, if you live in Australia, I don't suggest you ignore the Christmas books for kids that depict snow, etc. Read them with your children and enjoy them and then read some of the books which show how Christmas might be celebrated in Australia. And talk about what you're reading and seeing.
Does everyone celebrate Christmas?
Why and why not?
How do they celebrate?
Why does Christmas look different in different parts of the world?
Some of the books you'll read about here are about the way we experience the Christmas period in Australia – the celebrations we have, the weather and the fun. Some focus on Christmas traditions, songs and stories interpreted for Australia – The 12 Days of Christmas, Santa and his sleigh and 'Twas the Night Before Christmas. And other books explore Christmas's which have passed, giving you the opportunity to discuss how things were different for children many years ago and perhaps in different parts of Australia.
So read these books together, explore the illustrations and talk about the stories. All are wonderful additions to a young child's library and make beautiful gifts, for your own child or for a young friend or relative.
1. I'm Ready for Christmas
I'm Ready for Christmas is a fairly new book and there are a few things I really love about it, apart from the cute illustrations and gentle text. First, it manages to avoid mentioning Santa, focusing instead on family and celebrations and reflecting on the year that is drawing to a close. Second, it's written in the first person from the point of view of the young koala who is the main character in the story. And, third, this book beautifully reflects our Australian experience of Christmas. It mentions that the days are getting longer and warmer and the characters are all dressed in summer clothes, both things that young Australians can identify with as Christmas approaches. For younger children, this is probably my favourite of all the Australian Christmas books for children I've seen.
Suggested for ages: 2 – 7 years
2. Christmas Always Comes
Christmas Always Comes is a new (2021) and very lovely collaboration between author Jackie French and illustrator Bruce Whatley who have worked together on many books over the years. Jackie is the author of many picture books and novels with an historical focus and the setting for this one is Christmas Eve in 1932. The country is in drought and Joey, Ellie and their parents are droving cattle, searching for grass for the animals to eat. How will Santa find them on the long and dusty road? And will there be pudding and presents and a tree in the morning? But Joey knows that Christmas always comes. With beautiful illustrations which evoke the colours of the Australian bush, this is a story about finding joy and beauty where you least expect it, and how kindness can create miracles.
Suggested for ages: 3 – 8 years
3. All I Want for Christmas is Rain
In rhyming verse, this 2017 release tells the story of a little girl called Jane who asks Santa to help bring rain to her farming district to help stave of the threatened drought.
All I Want for Christmas is Rain is a simple story told in a straightforward way and is a wonderful way of helping children understand the impact of drought on rural communities. For children who live in cities, it can also open up conversations about the different environments whch exist in Australia and how children's lives and concerns may differ from their own.
Suggested for ages: 3 – 8 years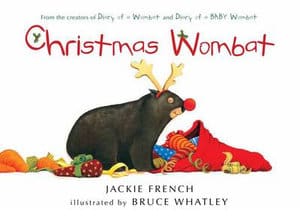 4. Christmas Wombat
Christmas Wombat is a gorgeous and very funny sequel to the very popular Diary of a Wombat by Jackie French and Bruce Whatley. It follows Mothball the wombat on Christmas Eve as he encounters Christmas tree ornaments, reindeer, Santa and his sleigh and, of course, a wombat's favourite food: carrots! And when Mothball gets sleepy, he finds a lovely place to nap – on Santa's sleigh!
I'm a huge fan of the wombat books. Jackie French's knowledge about – and love of – wombats is evident on every page and Bruce Whatley's comical illustrations perfectly capture the sense of these myopic, slow-moving, carrot-loving animals. The sparse text in this book cleverly allows the hilarious and expressive illustrations to tell the story, making this a book which can be enjoyed by humans of all ages.
Suggested for ages: 3 – 7 years
5. Wombat Divine
Mem Fox's delightful and moving Wombat Divine was first published in 1995 and has been in print ever since. It's the beautiful story of Wombat who loves everything about Christmas and, for as long as he can remember, has desperately wanted to be in the Nativity play. At last he's old enough to try out but will there be a part for him? As each part is announced, Wombat's hopes rise but he is never quite right for any of them and another animal is chosen. Luckily, wise emu knows the perfect role for a sleepy wombat and the Nativity Play is voted the best one ever.
Nativity plays are not quite as popular as they once were and I'm aware that many people aren't religious these days and steer clear of anything overtly Christian in children's books. But this is a lovely story with an important message about inclusion which goes beyond Christmas. I also think it's important for children to understand some of the traditions of Christmas even if those traditions are not followed in their own families.
Suggested for ages: 4 – 7 years
6. John Williamson's Christmas in Australia
John Williamson is an Australian singer and songwriter and It's Christmas in Australia was originally one of his very popular songs. Christmas in Australia is the song brought to life by the very talented artist Mitch Vane. The story focuses on Dad who wants the perfect Christmas family photo, including all the extended family who have gathered together for Christmas lunch. But someone is always missing which makes for a lot of fun. The text evokes the flavour of an Australian Christmas with Santa on the back of Jacko's ute, backyard cricket, cold beer and laconic humour.
Suggested for ages: 3 – 9 years
7. Tea and Sugar Christmas
Tea and Sugar Christmas was first published in 2014 and is currently out of print but your local library should have a copy – that's where I got mine. This is the story of the Tea and Sugar Train which travelled from Port Augusta to Kalgoorlie once a week between 1915 and 1996, bringing supplies and news of the world to the remote settlements along the 1700-kilometre train line. On the first Thursday in December every year, Father Christmas travelled the line, distributing gifts to all the children. Tea and Sugar Christmas captures the excitement of these visits through the eyes of Kathleen, a young First Nations child. The book itself is quite special. Fold-out sections show the remote townships and tell the story through detailed illustrations and a section at the back of the book explains the history and importance of this special train. This book is both the story of one little girls's excitement and experiences at Christmas time and also a history lesson of sorts. I didn't know about this train until I came across the book and it's a wonderful insight into life in a remote community in days gone by. If you're a teacher – or even if you are reading the book with your own children – it's a wonderful way to prompt discussion about the different ways people live in Australia and different experiences of Christmas.
Suggested for ages: 3 – 12 years 
8. An Aussie Christmas Gum Tree
An Aussie Christmas Gum Tree is new in 2021 and it's a delightful book for younger readers. With simple, rhyming verse and appealing, colourful illustrations, it tells the story of a community of Australian animals who get together to decorate their very own Christmas gum tree.
Suggested for ages: 3 – 6 years
9. The Australian Twelve Days of Christmas
The Australian Twelve Days of Christmas is out of print in 2021 but you may be able to find a copy at your local library. I'm not generally a fan of these types of books – where the words of a traditional song are changed to fit a different scenario – but this one is fun. As you'd expect, native Australian animals feature heavily:
On the first day of Christmas
my true love gave to me
a kookaburra up a gum tree
On the second day of Christmas 
my true love gave to me 
two pink galahs
and a kookaburra up a gum tree
Suggested for ages: 2 – 8 years
10. An Aussie Night Before Christmas
An Aussie Night Before Christmas takes the well-known story-poem 'Twas the Night Before Christmas and ads an Australian flavour to it:
'Twas the night before Christmas, there wasn't a sound
Not a possum was stirring, no-one was around.
We'd left on the table some tucker and beer,
Hoping that Santa Claus soon would be here.
Christmas in the middle of an Australian summer means Santa has to find new ways to deliver his presents. So he puts on a sunhat, shorts and a pair of thongs, gets rid of the sleigh and reindeer and substitutes some kangaroos and a ute. The gentle illustrations in this lovely book are packed with familiar icons cleverly woven into the visual narrative to recreate the warm, comforting, family atmosphere that Christmas is all about.
Suggested for ages: 3 – 8 years
11. What Do You Wish For?
What Do You Wish For? is probably my favourite of all the Australian Christmas books for kids I've read in recent times. As a teacher and as someone who's not especially religious these days, I'm always on the lookout for good Christmas-themed books which have a secular focus. I also like to steer clear of too much focus on Santa and gifts. It can be hard to find picture books which tick these boxes but this one is perfect. Anna Walker is a Melbourne-based illustrator and I'm a huge fan of her books.
What do you wish for? is a gorgeous story about Ruby who, with her friends, sits down to write a Christmas wish to hang on the tree in the park where they will have their Christmas party. But Ruby's wish feels too big to write down on a piece of paper and it's not until much later, when she's thought about all the things she loves about Christmas, that she is able to do it. This story focuses on the things that make Christmas magical, especially in Australia where the sun shines and we spend Christmas outdoors: friendship, family, Dad coming home from work when it's still light, smiles and swimming in the sea on summer holidays.
Suggested for ages: 3 – 10 years
12. Bouncing Bouncing Little Joeys
Bouncing Bouncing Little Joeys is a delightful story about a group of little joeys – a red kangaroo, a numbat and a rock wallaby – who are decorating the Christmas tree and getting ready for Santa's arrival. The simple, charming verse and adorable and contemporary watercolour illustrations make this a lovely book for younger children.
Suggested for ages: 2 – 6 years
13. Christmas in the Bush
Christmas in the Bush is actually set in New Zealand but I've included it because it's about a southern hemisphere Christmas and because it's such a lovely story. Christmas in the Bush is about a little boy who is spending his first Christmas after his parent's separation with his Dad, on Dad's new farm. And so, of course, he's worried about what this strange new Christmas will bring. Will Father Christmas know where he is? Will Dad remember to give him a present? There doesn't seem to be much evidence of the Christmas spirit – no decorations on a Christmas tree and no reassuring pile of presents underneath. All the familiar Christmassy things are missing and on Christmas morning his worst fears are realised. There's no present with his name on it and Dad even asks him to do chores. As the story unfolds, the little boy learns how much both his parents love him and that that will never change. He discovers the sheer joy of spending some special time with his dad and learns, as well must eventually do, that Christmas presents come in all shapes and sizes and the best ones don't come from shops.
Suggested for ages: 3 – 8 years
14. A Bush Christmas
A Bush Christmas is a poem written in 1931 by Australian poet and journalist C J Dennis. Although it's nearly 100 years old now, the wry satire of Dennis's verse and his affection for all things Australian make it fun to read and Dee Huxley's whimsical illustrations bring the words to life all over again. A Bush Christmas recounts the story of a swelteringly-hot Christmas Day spent by a hardworking farming family in the Australian bush in the days before the internet, dishwashers and Playstations. A neighbour, old Rogan who lives alone, rides over to join the family, Dad decrees that it's not a day for working and Mum cooks up a traditional hot Christmas lunch with all the trimmings. After lunch, old Rogan tells stories of snowy Christmas Days in a far-away country:
Then, with his black pipe well alight,
Old Rogan brings the kids delight
By telling o'er again his yarns
Of Christmastide 'mid English barns
When he was, long ago, a farmer's boy.
His old eyes glisten as he sees
Half glimpses of old memories,
Of whitened fields and winter snows,
And yuletide logs and mistletoes,
And all that half-forgotten, hallowed joy.
Suggested for ages: 5 – 12 years
15. Applesauce and the Christmas Miracle
Applesauce and the Christmas Miracle is a whimsical retelling of the Christmas story which centres around a little pig called Applesauce. Applesauce lives with Joe and Marigold in a town that's been devastated by bushfires. As Christmas approaches, she is convinced that there can be no Christmas this year – her heart, where Christmas comes from, is as small as a gumnut and there is no Christmas in it at all. But then something special happens. Friends arrive and Applesauce discovers that Christmas does not need to be all about decorations, fancy foods and expensive presents. It does indeed, as Owl told her, come from the heart.
Suggested for ages: 3 – 6 years
To save this post for later, pin the image below:
Over to you
Do you have any favourite Australian Christmas books for children?
Are there any books you think should be added to this list?
I'd love to hear what you think so drop me a line in the comments.
Hello!
I'm Felicity. I write about children's books and reading and about their potential for enriching the lives of young humans.
I review picture books, board books and sometimes books for older children.
As well as being a lover of all things to do with books and reading, I'm a mum of three young adults and a primary school teacher. I also create gift baskets filled with the very best books for children from newborns to four-year-olds.
Welcome. It's nice to meet you.