Picture books for children about Ramadan and Eid
Last updated: 10 January 2022
Are you looking for resources about Ramadan for kids?
These 12 picture books about Ramadan for kids are a great way to introduce children to the Muslim celebrations of Ramadan and Eid.
I am not of the Muslim faith but I share these books with the children I teach because I think it's important for our kiddos to understand and respect the beliefs of others from the time they're young.
What is Ramadan?
Ramadan is the most sacred month of the year in Islamic culture. For Muslims around the world it is a month of fasting, reflection, prayer and celebrating with friends and family.
What does 'Ramadan' mean?
'Ramadan' is the name of the ninth month of the Muslim calendar.
When is Ramadan?
The time when Ramadan will be observed each year is calculated using the lunar calendar which is different from the Gregorian calendar we use today. This means that Ramadan occurs on a different date every year, depending on the cycle of the moon. Each year, Ramadan begins about eleven days earlier than in the previous year.
When does Ramadan start in 2022?
In 2022, Ramadan will begin in the evening of Saturday 2 April 2022.
When does Ramadan end in 2022?
In 2022, Ramadan will end in the evening of Sunday 1 May 2022.
So what is Ramadan?
When does Ramadan happen and why?
How do Muslims celebrate Ramadan?
The month of Ramadan is the ninth and holiest month in the Islamic lunar calendar. It's the month in which Muslims believe that God's revealed the Quran to their profit, Muhammed, through the angel Gabriel.
The time when Ramadan will be observed each year is calculated using the lunar calendar which is different from the Gregorian calendar we use today. Each month begins when the first crescent of a new moon is sighted and Ramadan occurs on a different date every year. In 2022, Ramadan begins on Saturday 2 April and ends in the evening of Sunday 1 May.
Muslims observe Ramadan through prayer, fasting, performing acts of charity and reading the Quran. Fasting begins before sunrise when a special breakfast is shared and ends after sunset with a wonderful dinner called iftar which, again, is shared with friends and family.
At the end of Ramadan, there is a special period called Eid or Eid al-Fitr, a three-day long celebration which marks the end of the holy month
Picture Books about Ramadan for Kids
The 12 books on this page are are perfect for sharing with Muslim and non-Muslim children to explain Ramadan and Eid. Each book has been chosen because it adds something significant to children's understanding of Ramadan. Sometimes a book might be included because it focuses on a different aspect of Ramadan or because it explains the celebrations in a unique way. There are also books for all age groups, including some which are a great introduction for older children – and even adults – who aren't familiar with these celebrations.
These books about Ramadan for kids taught me a lot I didn't know about Ramadan. I hope you and your children enjoy them.
Like the other Curious George books in the series, It's Ramadan, Curious George is a board book with tabs along one side which allow you to quickly locate the various symbols and activities associated with Ramadan. The story follows George and his excitement as he and his friend, Kareem, are preparing for Ramadan with Kareem's family. Kareem is fasting during Ramadan for the first time and George helps when Kareem gets hungry by playing a game with him.
Suggested for ages: 2-5 years
I really love this little board book. The illustrations are gorgeous and the book does a great job of explaining the essential information about Ramadan for younger children. The book is a board book so I've recommended it for 2-5-year-olds but it's also suitable for slightly older children as it explains the traditions in a factual but easy-to-understand way.
Suggested for ages: 2-5 years
Muslim parents have pointed out some errors in this book (the word 'Islam' does not means 'peace' in Arabic and the five daily prayers (Magharib) are not said but performed as a physical act) but I have included it because it's still a lovely book which does a good job of explaining some of the traditions around Ramadan for kids in the 2-5 age group. The book follows a little boy as he observes Ramadan with his family and wishes everyone Eid Mubarak as the month draws to a close. The children I've shared this book with love the clear, simple illustrations. A worthwhile addition to a teacher or parent's library of children's books about Ramdan.
Suggested for ages: 2-5 years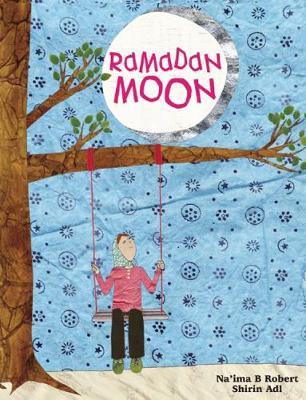 Ramadam Moon is a beautiful book with unique artwork which beautifully illustrates the Muslim culture and practices surrounding Ramadan. The book portrays a non-Arabic Muslim family observing Ramadan and the joy and thoughtfulness with which they practise the ancient traditions of their faith. The text in this book is gentle and lyrical and does a wonderful job of describing the emotions the children feel as the month flows by.
Suggested for ages: 4-8 years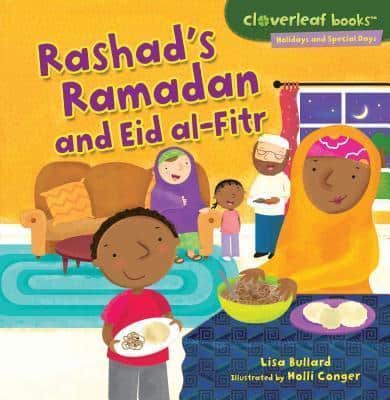 Rashad's Ramadan and Eid al-Fitr is not a story as such but a collection of facts about Ramadan loosely tied as we follow Rashad as he experiences the holy month of Ramadan with his family. The illustrations are bright and cute and the children with whom I have shared this book have enjoyed it.
Suggested for ages: 5-8 years
Hassan and Aneesa Love Ramadan follows two siblings as they celebrate Ramadan with their family and friends. Fasting and the fact that it's a choice and that children aren't expected to fast (or can undertake a flexible, modified fast) is discussed. This book has less emphasis on the moon and on celebrating with family and friends but I really like the way it shows the children discuss Ramadan with their friends.
Suggested for ages: 2-6 years
The Gift of Ramadan is a new-ish story which follows Sophia and her family as they celebrate Ramadan, with Sophia fasting for the first time. There is more detail in this book, as you might expect for a book aimed at slightly older children and it's a great book to prompt discussion with the children you read it to. For example, Sophia's mum wakes her very early on the first day or Ramadan so she can have breakfast before the sun rises and Sophia is very sleepy as she eats. Then the sun starts to rise and her dad says that the time for eating is over. As the family prays, Sophia falls asleep on her prayer rug. Later her tummy rumbles and she has to find things to distract herself from her hunger as she struggles with fasting. There's an author's note with more information about Ramadan at the end of the story.
Suggested for ages: 4-7 years
Lailah has moved with her family from Abu Dhabi to the USA and misses her friends. She is excited about fasting during Ramadan for the first time and, on the first day of Ramadan, takes a note her mother has written to school to explain to her teacher why she has not brought her lunch to school. But Lailah is too embarrassed to give the note to her teacher so she hides the fact that she doesn't have any lunch. This book is really lovely. It's about Ramadan but it's also about growing up and about coping with the changes that happen in our lives. I love the water-colour illustrations in the book and the map which shows where Lailah used to live and how far it is away from her new home. This is a great book to use in the classroom, as well as at home and is suitable for sharing with older children, as well as little ones.
As a former ESL teacher, this review on the Amazon website warmed my heart so I wanted to share it with you:
I'm an ESL teacher. I bought this book near the end of Ramadan and shared it with two 5th grade classrooms that I push into. The best part of this book is that my Muslim students could see themselves in the experiences the main character was having. These kids became the experts and were able to share their own experiences and answer classmates questions that came up as a result of this read aloud! This book is a great mirror for Muslim kids and a great window for their classmates.
Suggested for ages: 5-12 years
Night of the Moon is a beautiful tale about the sighting the Ramadan moon, the holy month of Ramadan and the festival of Eid. It follows Yasmeen, a seven-year-old Pakistani-American girl, as she celebrates with her family and learns the ancient roots of their cherished traditions. At Yasmeen's school, her class discusses Ramadan and Yasmeen enjoys answering her classmates' questions. There are author's notes and a helpful glossary at the end of the story. For me, it's the illustrations which are the real star of this book. Lush and beautiful, their style evokes Islamic art and it's really worth spending some time immersing yourself in them and talking with your children about them. Your children or students may like to experiment with some art of their own in the style of the book's illustrations.
Suggested for ages: 5-10 years
Under the Ramadan Moon is written in simple, rhyming verse with lots of repetition so it's lovely for younger children. Each double-page spread describes a different Ramadan tradition and the illustrations are gentle and muted but also bright and appealing.
We fast by day under the moon, under the moon, under the ramadan moon.
Suggested for ages: 4-8 years
Golden Domes and Silver Lanterns is not actually a book about Ramadan but I've included it because it's a lovely book about Muslim culture for younger children. It's a simple book about colours and is written in rhyming verse:
Brown is a date, plump and sweet. During Ramadan, it's my favourite treat.
Ramadan and Eid are both mentioned and there is a glossary at the end of the book.
Suggested for ages: 3-6 years
Once Upon an Eid is a book of short stories for slightly older children which is due to be released on 5 May 2020. It sounds beautiful and I can't wait to read it! Each story was written by a different contemporary Muslim author and the stories are all about the most joyful Muslim holiday of the year: Eid.
From the publisher:
Eid: The short, single-syllable word conjures up a variety of feelings and memories for Muslims. Maybe it's waking up to the sound of frying samosas or the comfort of bean pie, maybe it's the pleasure of putting on a new outfit for Eid prayers, or maybe it's the gift giving and holiday parties to come that day. Whatever it may be, for those who cherish this day of celebration, the emotional responses may be summed up in another short and sweet word: joy.
Suggested for ages: 8-12 years
To save this post for later, pin the image below:
Does your family celebrate Ramadan?
Do you have a favourite book about Ramadan to add to this list?
Have I missed one of your favourite books about Ramadan for kids?
I'd love to hear what you think so drop me a line in the comments.
Hello!
I'm Felicity. I write about children's books and reading and about their potential for enriching the lives of young humans.
I review picture books, board books and sometimes books for older children.
As well as being a lover of all things to do with books and reading, I'm a mum of three young adults and a primary school teacher. I also create gift baskets filled with the very best books for children from newborns to four-year-olds.
Welcome. It's nice to meet you.