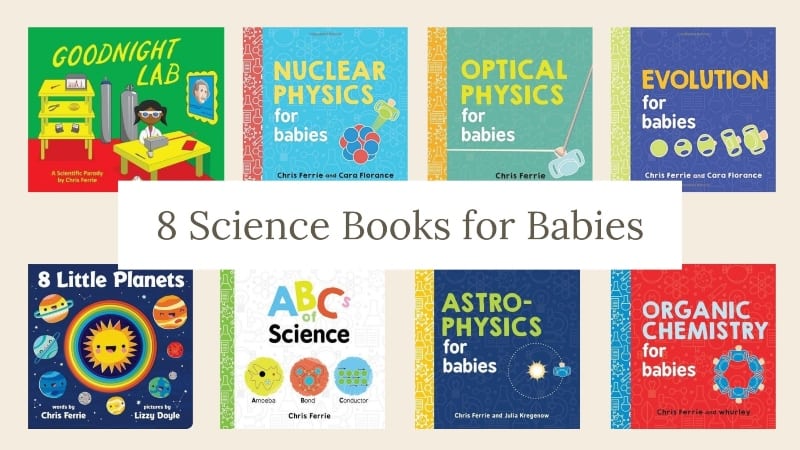 8 science-themed board books for babies and young children
On this page you'll find some really gorgeous science books for babies. These are larger-format board books (20cm x 20cm and 2.5cm thick) and they're just perfect for gifting to little ones who've been born into science-loving families.   
The science books for babies I feature here were all written by Chris Ferrie, a father of four and a physicist. Chris is originally from Canada and works at the University of Technology in Sydney. There are now a total of around 34 books in this series of board books and they're honestly just fantastic.
Of course, these books aren't really about having babies learn science; they're mostly just fun books for adults to share with little ones. Having said that, there's no doubt that babies absorb words at an incredible rate and it's surprising how quickly many little ones absorb the science vocabulary in these books. And non-scientist grown-ups who read these books with their little ones will learn a lot too!
One of my sons is a physicist and I got interested in science via his work. He doesn't have children yet and I may have had someone like him in mind when I created the Little Scientist Gift Basket 🙂 . The Little Scientist Gift Basket is a really lovely collection of board books and includes four of the books reviewed here.
If you'd like to buy any of the books on this page, the cover images are links which will take you to the Book Depository website.
I think these books are lovely to share with babies and very suitable for children up to the age of four or five. Older children will enjoy them too, even if they feel the board book format is a little beneath them. 🙂
8 Amazing science books for babies
There are over 30 science books for babies in Chris Ferrie's series of board books.
The eight I've reviewed here are my favourites. Four of them are the ones I've chosen to include in the Little Scientist Gift Basket.
1. Goodnight Lab
Goodnight Lab is a scientific parody of the well-known children's book Goodnight Moon. The text follows the same format as Goodnight Moon but instead of a little bunny going to bed we see a tired scientist finishing up for the day.
The book opens with a description of all the things the scientist has in her lab. There's a laser, a lab notebook and a picture of "Einstein with a stern look", along with other things. The scientist then says goodnight to all the things in her lab: to the grumpy old professor shouting "publish", to the liquid nitrogen, and to the compressed air). She finishes up by saying "Goodnight scientists everywhere".
I first came across this book a few years ago and adored it from the start. I was delighted when it appeared in this board book edition which I think is perfect for little ones from birth up to at least the age of four.
2. Astrophysics for Babies
This is a super-cute and delightfully simple introduction to the study of how physics and chemistry affect heavenly bodies in space. It's a great way to help babies and their grownups learn all about our universe, with a very tongue-in-cheek approach. 
The book begins: "This is a ball. It's the shape of planet earth." It then goes on to describe, with simple, bright illustrations, how the earth, stars, etc were formed and ends with a lovely picture of a baby and the words "The atoms of old stars live on in you".
3. 8 Little Planets
As you may have guessed, this book is about the eight planets that move in orbit around the sun: Mercury, Venus, Earth, Mars, Jupiter, Saturn, Uranus and Neptune. It's a fun, fact-filled jaunt around the solar system, celebrating, in rhyming verse, what makes each planet unique.
The book features a cut-out circle on the cover and on every page which allows the sun to shine through, reinforcing the concept that all the planets revolve around the sun. 
Pretty much any book that rhymes is a hit with me and this one is really goodOld slow Neptune looks a bit behind.

Orbiting the Sun takes an awful long time.
But the 8th little planet doesn't need to worry.
It spins on its axis in a really big hurry!
4. ABCs of Science
This is an A-B-C book with a difference! In the world of science, A is for Amoeba, B is for Bond, C is for Conductor … all the way through to Z is for Zygote!
With simple, colourful illustrations and two levels of text, this is a cute – and scientifically accurate – introduction for babies and their grown-ups to a new science concept for every letter of the alphabet.
The two levels of text in this book mean that the book effectively grows along with your little scientist. Each letter features one simple sentence explaining the science concept and a longer, more detailed explanation underneath. What a great idea!

5. Nuclear Physics for Babies
Like the other books in the series, this is a colourful, simple and super-cute introduction to what goes on in the center of atoms, covering the nucleus and the amazing process of nuclear decay.
Author Chris Ferrie is a physicist and this book was co-written by Cara Florance who has a PhD in Biochemistry and a Bachelor of Science degree in Chemistry. Cara has also worked in the fields astrobiology and radiation decontamination.
The gorgeously simple illustrations and straightforward text make this book a fun read for parents and the perfect way to introduce basic concepts to the littlest scientists.
6. Organic Chemistry for Babies
Organic Chemistry for Babies is an introduction to the structure of organic, carbon-containing compounds and materials.
To write this book, Chris Ferrie, a physicist, teamed up with William Hurley (commonly known as 'whurley') who is a scientist, entrepreneur and the founder of  a quantum computing start-up based in the US. Whurley is also the father of three little boys and believes all children are scientists at heart and the key to our future. I really loved learning this about whurley because it's exactly what I've come to believe through many years of observing my own children and the children I teach.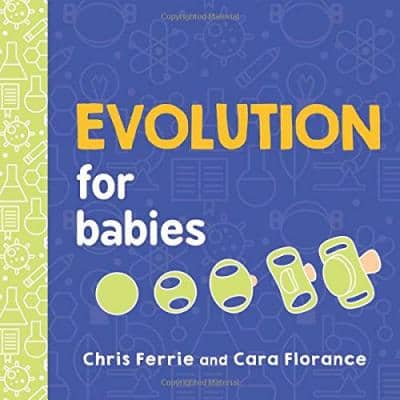 7. Evolution for Babies
Evolution for Babies is an introduction to the complex subject of how organisms mutate, evolve and survive. I really love this book and think it's a beautiful addition to the series.
Like Nuclear Physics for Babies, this book was co-written by Cara Florance, who has a PhD in Biochemistry and a Bachelor of Science degree in Chemistry. 
As with many other of the books in this series, Evolution for Babies features one simple sentence on each page, along with a simple, colourful illustration of the concept being explained.
8. Optical Physics for Babies
Optical Physics for Babies is a simple introduction to the principles of linear optics.
As with all the books in this series, Chris Ferrie uses clear, colourful images and one sentence per page to explore the difference between reflection and refraction and why both are necessary to create wonderful things like rainbows.
Over to you
Have you bought any of these books for your little one?
Have I missed one of your favourite science books for babies?
I'd love to hear what you think so drop me a line in the comments.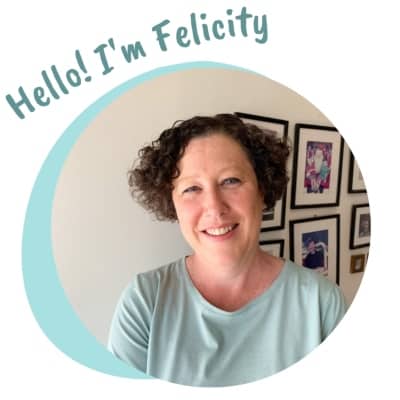 I'm Felicity - a parent to three young humans and a primary school teacher who loves books.
I'm passionate about helping parents discover the joy of reading to their little ones and I love helping you discover quality picture books to share with the babies and small humans in your lives.
I also create gift baskets and Little Book Gifts filled with the very best books for children from newborns to four-year-olds. You can check them out here.
SHOP OUR BOOK GIFT BASKETS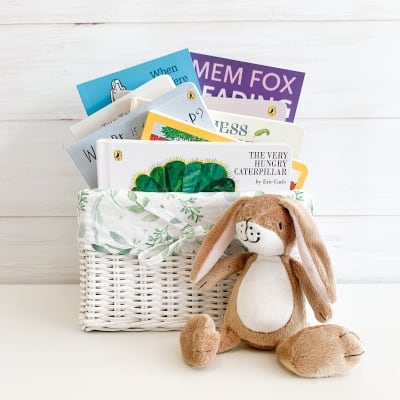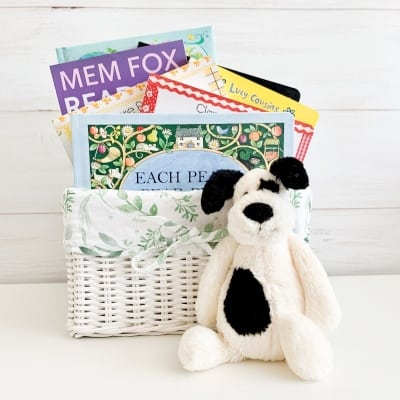 [et_bloom_inline optin_id="optin_1"]