Why books are the best corporate gifts for new babies
Looking for corporate gifts for new babies? Or perhaps you're looking for a gift for a baby shower, a gift that will make the soon-to-be-parents feel valued, supported and loved.
Why not congratulate a work colleague, client or staff member on the birth of their new baby with one of our gorgeous book gift baskets or Little Book Gifts?
We know how hard it can be to find a special gift that's just that little bit different to celebrate the arrival of a new baby. Add in the need to meet the budget you've all agreed on and finding the perfect gift can end up being time-consuming and fraught with doubt.
At The Book Basket Company, we've got you covered with a range of cute, clever gift baskets and Little Book Gifts that will really wow your colleague, client or staff member.
Our range of baby gift baskets are packed with joyous selections of heart-warming books curated by a teacher and mum. These are the very best books for babies and young children, the ones that are adored by children the world over and that help create treasured reading aloud experiences for new parents and their little one.
Each gift basket contains a copy of Mem Fox's Reading Magic, a book for parents about the joys and benefits of reading aloud, a cute soft toy and a hand-written card, all beautifully packed in one of our signature gift baskets.
Looking for a smaller baby gift? Our Little Book Gifts are a super-cute and very popular option.
Why our corporate gifts for babies are the perfect choice:
Here's why our book gift baskets and Little Book Gifts are great for corporate gift-giving:
when you give the gift of a book you're giving the gift of reading and a love of reading is a gift that lasts for a lifetime;
the books in our book baskets have been specially chosen to enhance cognitive development and to encourage a love of reading right from babies' earliest days;
most of our books are sturdy board books, perfect for small humans to read on their own, throw around the room – and even chew!
our book-ish gifts are the perfect gender-neutral gift: great for baby boys, baby girls and for when you're not sure yet;
our signature gift baskets are designed to be a cute and practical place to store the books, with room for more books as the baby's library grows;
Ordering from us is easy!
Ordering a book gift basket or Little Book Gift from us couldn't be easier:
our website is easy to navigate and ordering is a breeze;
we are a small business and offer speedy delivery and friendly service;
Our corporate gifts for new babies can be delivered to the new parents' residential address, to a hospital or to your work-place so you can all be there when they open it.
Oh, and if you're scratching your head over what to write on the card, you might like to check out these messages for inspiration.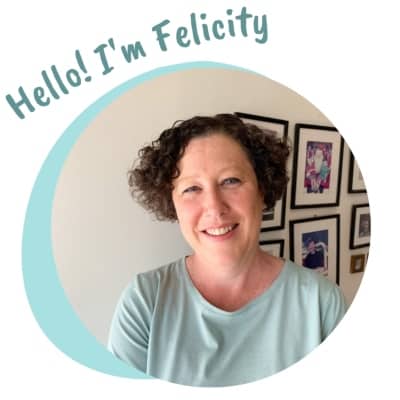 I'm Felicity - a parent to three young humans and a primary school teacher who loves books.
I'm passionate about helping parents discover the joy of reading to their little ones and I love helping you discover quality picture books to share with the babies and small humans in your lives.
I also create gift baskets and Little Book Gifts filled with the very best books for children from newborns to four-year-olds. You can check them out here.
SHOP OUR BOOK GIFT BASKETS