Fun, reassuring books about all the different kinds of families
Have you read any Todd Parr books with your little people?
I've been using a selection of Todd Parr books in the classroom for some years now and I'm always delighted when a new one is released.
Todd was originally an artist but he's now written over 35 books picture books for children, all with his trademark colourful and zany illustrations and all with a wonderful message about inclusion, giving thanks and caring for ourselves and our world.
If you haven't yet discovered Todd's books, you're in for a treat because they are a joy to share with children and they appeal to pretty much every age group, from birth up. They incorporate messages that are positive, reassuring, uplifting and hopeful and, of course, the books themselves are simple, bright, colourful, zany and fun!
The Todd Parr books I review here are all about families. Todd writes about mums and dads, grandmas and grandpas, brothers and sisters, celebrating their diversity and reassuring children that all families are OK, however they are made up and whatever they look like.
Whether you're a parent reading to your own child or a teacher reading aloud to a class, these books are great for discussing family relationships with children (what is a grandma?) and tend to prompt some very interesting discussions with small humans.
So let's explore the wonderful world of Todd Parr books together.
There are so many different kinds of families these days and that can be disconcerting for a young child who is working every day to try to make sense of the world and to figure out their place in it. Many children's books still centre around the traditional family model, with one parent of each sex and their biologically-related offspring which can worry children who live with grandparents or in other types of families.
The Family Book celebrates all families, whatever they look like, in a funny, silly way and does a great job of reassuring children that their family is great, just the way it is. In this book, children will see pictures of the traditional two-parent, nuclear family, along with pictures of adoptive families, step-families, one-parent families and families with two parents of the same sex. I use this book with Kindy and Year 1 students as a springboard for talking about families and it's always a hit.
Like The Family Book,
The Mommy Book
(hate the US spelling but what can you do?) celebrates all kinds of mums. The message is: some mummies sing songs, some read stories, some work at home and some work in other places but all mummies love their children and want them to be who they are. This book is another great one for reassuring children while also broadening their worlds just a little so that they see that some mums are not exactly like the mums they see every day. Children love recognising their own mums in this book and it's a great discussion-starter for the classroom.
The Daddy Book
celebrates the different kinds of daddies children have and highlights the many reasons they are so special. Some daddies walk their children to school. Some daddies teach their children to ride skateboards. Some daddies wear suits and some wear odd socks. Like all Todd Parr's books, this one is fun and reassuring and a great conversation-starter about diversity, whether you're sharing the book with your own child or in a classroom.
The Grandma Book
is a celebration of all the different kinds of things grandmas do and the different kinds of grandmas children have. The illustrations are bold, bright and funny and depict some of the ways grandmas show their love for their grandchildren, from offering advice and babysitting to making things and giving lots of kisses.
The Grandpa Book
is a celebration of all the different kinds of things grandpas do with and for their grandchildren and of the different kinds of grandpas children have. When I read this book to a group of children, they love telling me which one is like their Grandpa and it sparks some interesting discussions about who grandpas are and what they do, from telling stories to putting extra marshmallows in your hot chocolate.
We Belong Together
is a beautifully-written, sensitive and very reassuring book about becoming a family through adoption. A note on the book's cover mentions adoption but I really think this is a great book for introducing young readers to the many ways people can choose to be a family. The text would also be wonderfully reassuring for children who are being cared for away from their biological parents.
"We belong together because….
You needed a home
I had one to share
Now, we are a family."
The Brother Book
is a lovely book for a child who's expecting – or has just been introduced to – a new sibling. It celebrates all different kinds of brothers: older and younger brothers; brothers who enjoy playing sports and brothers who love dancing; brothers who like to hang out together and brothers who need more time to themselves. Featuring Todd Parr's trademark colourful, quirky illustrations, the message of this gorgeous book is: all brothers are a special part of your family!
The Sister Book is another lovely book for a child who's expecting – or has just been introduced to – a new sibling. It celebrates all different kinds of sisters, whether they are older or younger, enjoy helping in the kitchen or prefer helping out in the garage and whether they live with you or live far away. Like The Brother Book, the message of this gorgeous book is: all sisters are a special part of your family!
To save this post for later, pin the image below: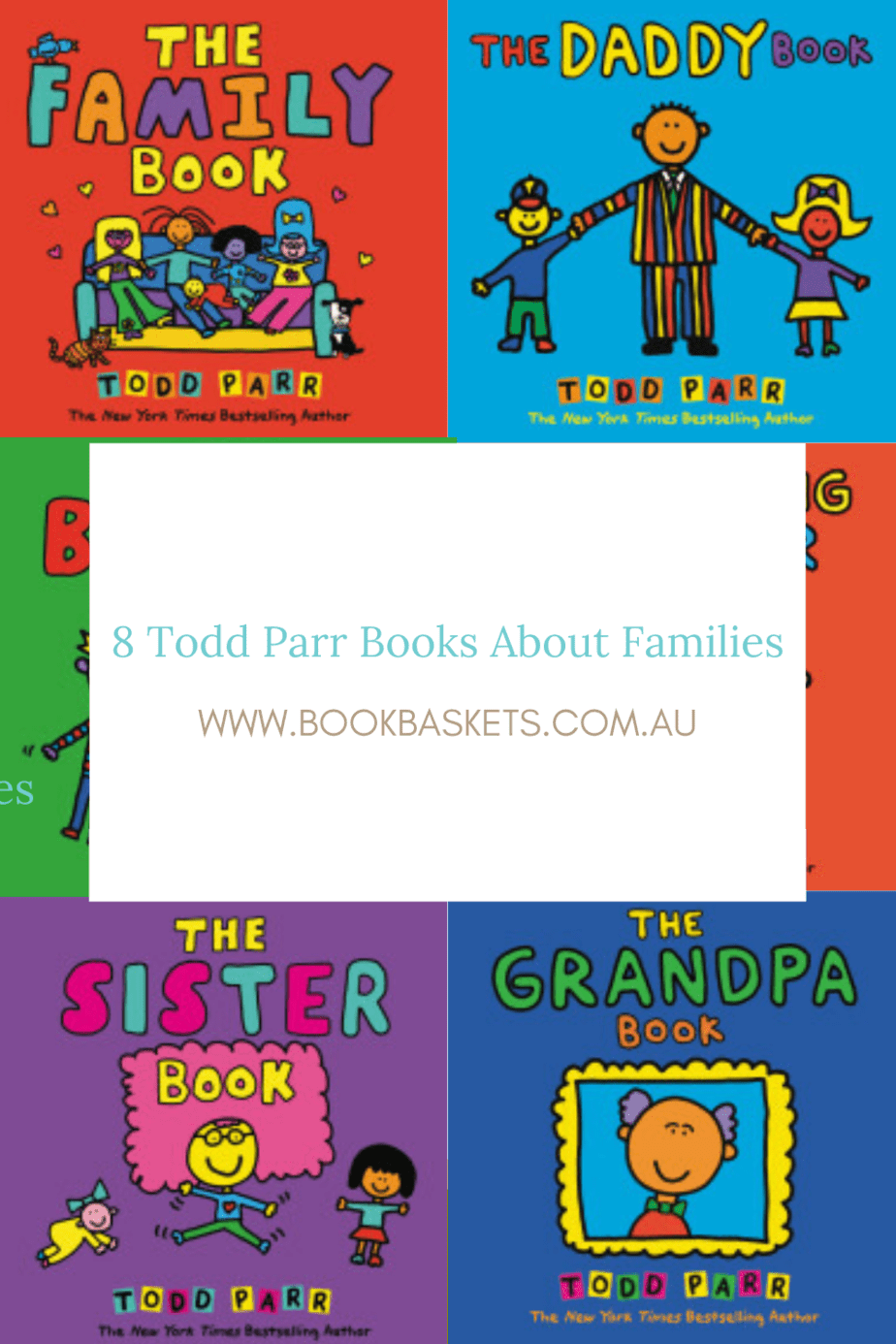 Over to you
Do you read Todd Parr books with your children?
Which one's your favourite?
I'd love to hear what you think so drop me a line in the comments.
Hello!
I'm Felicity. I write about children's books and reading and about their potential for enriching the lives of young humans.
I review picture books, board books and sometimes books for older children.
As well as being a lover of all things to do with books and reading, I'm a mum of three young adults and a primary school teacher. I also create gift baskets filled with the very best books for children from newborns to four-year-olds.
Welcome. It's nice to meet you.