5 Fun books about Sydney to share with 2-10-year-olds
These picture books about Sydney are great fun to share with your children, grandchildren or with the children you teach if you live in this big, busy, noisy, crowded, beautiful city of ours. The books are also fun to read if you've visited Sydney or if you'd like to visit with your children one day.
I've lived in London, Paris and – for a few months – in Israel but Sydney has always been my home and I love it! I was born here (in Crows Nest), grew up here (mostly in St Ives) and have raised my children here (mostly in West Pennant Hills). As a result, I know parts of the city pretty well and have a nodding acquaintance with the rest of it. And because I love history, I even know quite a bit about how Sydney came to be the way it is.
So I went in search of some picture books about Sydney and found the five I've reviewed on this page.
These books about Sydney generally appeal to children aged from three to about 10. Having said that, I love them as an adult and I think many older children will too.
Reading picture books about Sydney with children
These picture books about Sydney are a mixture of story and non-fiction. Each takes a different – and fun – approach to exploring this big, busy Australian city on what's often called the most beautiful harbour in the world.
Reading books like these with children is great fun because they get so excited when they recognise familiar places, landmarks and experiences. And helping younger children make connections between what they already know about Sydney and the words and images in the books helps to create new connections in the brain, while also adding to their store of knowledge about the places which feature in the books.
So read the books, chat about them and perhaps even make plans to visit some of the places mentioned in the books that you haven't yet been to, once we're able to travel freely again (I'm writing this during COVID-19, when travel in Australia is restricted).
I hope you enjoy discovering them together.
Alphabetical Sydney is a fun, rhyming journey through Australia's biggest city, featuring a different experience or place on each double-page spread:
A's for amusement park: step right this way!
Shrieks of delight over Lavender Bay.
'Welcome,' it cries, with its lunatic grin.
'Welcome to Sydney! Now won't you come in?'
I really love the witty, light-hearted, descriptive writing in this book and the illustrations are just gorgeous. It's recommended for 4-8-year-olds but I've used it in the classroom with older children who've loved it for the rhymes and for the reminders of places and experiences in Sydney that they know and love. I also know three-year-olds who are entranced by it.
One of the lovely things about this book is that it really does cover a lot of Sydney. While the big attractions are featured – the Harbour Bridge and Luna Park – suburbs that rarely get a mention in the media, such as Engadine, do get a mention here (L is for lawn bowls).
Although it's theoretically a children's book, I know adults who've received or bought this book as a memento of their time in Sydney and who treasure it.
Hello, Sydney! is a colourful, fact-packed book suitable for children aged from about four years up. It features a birds-eye view of 15 of Sydney's most iconic locations, including Taronga Zoo, Circular Quay and Bondi Beach. The detailed illustrations encourage children to spot and to talk about the things they see and to find the six cheeky seagulls hiding on each double-page spread. Many of the fun facts in this book were new to me, even as a born-and-bred Sydney-sider, so I really enjoy sharing it with the children I teach. I also love that the book starts by acknowledging that the Eora people were the original inhabitants and care-takers of the land on which Sydney now stands. The Aboriginal origins of words like Wahroonga and Taronga are also explained.
Alexander's Outing was first published in 1993 and has been popular with 3-6-year-olds ever since. I have a real soft-spot for this book and often use it in the classroom with children in Kindy, Year 1 and Year 2. As well as being fun to read together, it also covers a few maths concepts so there are some activities we do around those after we've read the book. 
But for me it's the Sydney setting and the local landmarks which make this book really appealing. The book is about a family of ducks who live in the Botanic Gardens and who set off one day in search of adventure. As they waddle along Art Gallery Road and into College Street. Alexander's mother repeatedly quacks at her brood to 'stay close, take care!' But Alexander doesn't do either of these things and he ends up falling into a deep hole from which predicament a group of people from the park come together to save him.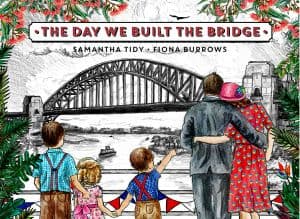 The title of this book is interesting because, of course, the Sydney Harbour Bridge was not built in a day. And, in fact, this book is not so much about the actual building of the bridge as it is about the way ideas originate, are developed and then are sometimes delayed and forgotten before being rediscovered and acted upon. I love picture books which combine fiction and non-fiction and this book is a fabulous example of that.
The book opens in 1890 when the need for a bridge, which had been discussed for many decades, became more pressing. It continues until 1932 when the bridge was opened, with the story of its construction, put on hold because of war, told through wonderful illustrations which are filled with the most amazing details of life in those times. There's so much to notice and discuss in this book; it's definitely one to take your time with.
Something I only noticed after reading the book several times – and only then because a child pointed it out to me – is the thread of one man's life, and his association with the bridge, which runs through the book. From the picture of an old man reading to some young children which appears at the end of the book, it's implied that the man is John Bradfield, the engineer who oversaw the design and construction of the bridge and who was its chief proponent. But the man in the story is a young boy in 1890 and then a young man who goes off to serve in World War I, which Bradfield, born in 1867, did not do. Nevertheless, the thread of this unnamed man's life and his connection with the bridge as he works on its construction helps to tie the story together in a very personal way.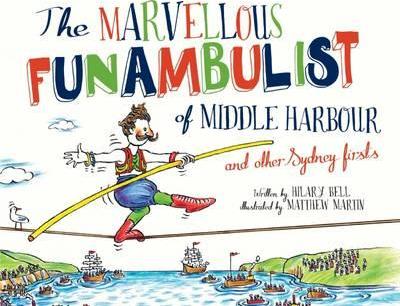 The Marvellous Funambulist of Middle Harbour and other Sydney firsts is a fairly recent find for me, though it was first published in 2015 so it's been around for a while. The book traces the events, people and places that have shaped the city, however unintentionally, through a series of 'firsts' described in rhyming verse:
This is a story of Sydney
In order of who did what first:
The incidents, places and people,
All illustrated and versed.
Who first pulled a tooth using ether?
What started the first pistol fight?
When were the first Chinese tea rooms?
Where was the first traffic light? 
This is a wonderful book to share with children aged from about six to around 10. Having said that, I love it and, though I haven't yet read it to older children, I suspect they'd love it too. The illustrations are straightforward and funny, the rhyming verse is appealing and almost all the facts were new to me.
Oh, and a funambulist is a tightrope walker (I didn't know that until I read this book).
Do you have any picture books about Sydney to recommend?
Have I missed one of your favourite books?
I'd love to hear what you think so drop me a line in the comments.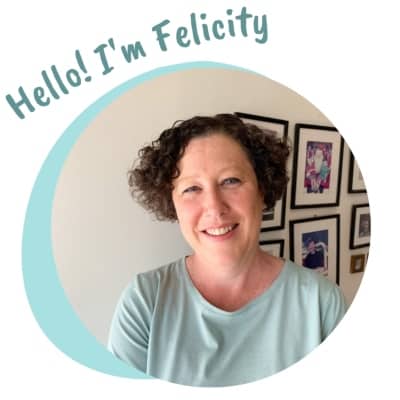 I'm Felicity - a parent to three young humans and a primary school teacher who loves books.
I'm passionate about helping parents discover the joy of reading to their little ones and I love helping you discover quality picture books to share with the babies and small humans in your lives.
I also create gift baskets and Little Book Gifts filled with the very best books for children from newborns to four-year-olds. You can check them out here.