Sorry Sorry: the best picture book to read on National Sorry Day
Updated 5 July 2023
National Sorry Day occurs in Australia on 26 May every year.
In 2022 National Sorry Day falls on Thursday 26 May 2022 and I have a wonderful picture book to share with you which is just perfect for reading at this time of year.
Sorry Sorry by Anne Kerr is a wonderful book to share with children from about the age of four up and it's perfect for helping children understand why this day is important.
But first, a bit about National Sorry Day and Reconciliation Week.
National Sorry Day is the day when we remember and acknowledge the hurt and damage caused in the past by our governments when they forcibly removed Aboriginal and Torres Strait Islander children from their families, communities and cultures.
It's a day when we reflect on the sad and painful stories of the Stolen Generations, recognise the resilience of Aboriginal and Torres Strait Islander peoples and acknowledge the power and importance of saying we are sorry for these wrongs. It's also a day when we recognise that Aboriginal and Torres Strait Islander people continue to suffer from the effects of these policies.
National Reconciliation Week happens every year during the week 27 May – 3 June. It's a week when we celebrate and work to build on the respectful relationships shared by Aboriginal and Torres Strait Islander people and other Australians.
Sorry Sorry is a fantastic book to read throughout the year and during NAIDOC Week, as well as around Sorry Day and Reconciliation Week.
Helping children understand Sorry Day and reconciliation
These are big issues.
There are huge historical and human rights issues involved and over 200 years of pain and suffering, misunderstanding and disconnection.
And, of course, explaining all this to children is more than a bit tricky. As a primary school teacher, I've tried various ways over the years but understanding is really something that needs to develop over time. As their ability to understand complex concepts and their historical awareness grows and when these issues are discussed openly and often, children's understanding grows and becomes richer and deeper.
As always, I find picture books are a wonderful way to introduce these complex issues in a way that's engaging, familiar and non-threatening.
Which brings me to Anne Kerr's wonderful book Sorry Sorry which I've been sharing with the children I teach for two or three years now. I'm a casual teacher in northern Sydney, teaching  kiddos aged from 5 years to 12 years across a number of different schools. I read this book to children from Kindy to Year 6 and I'm always blown away by the way they respond.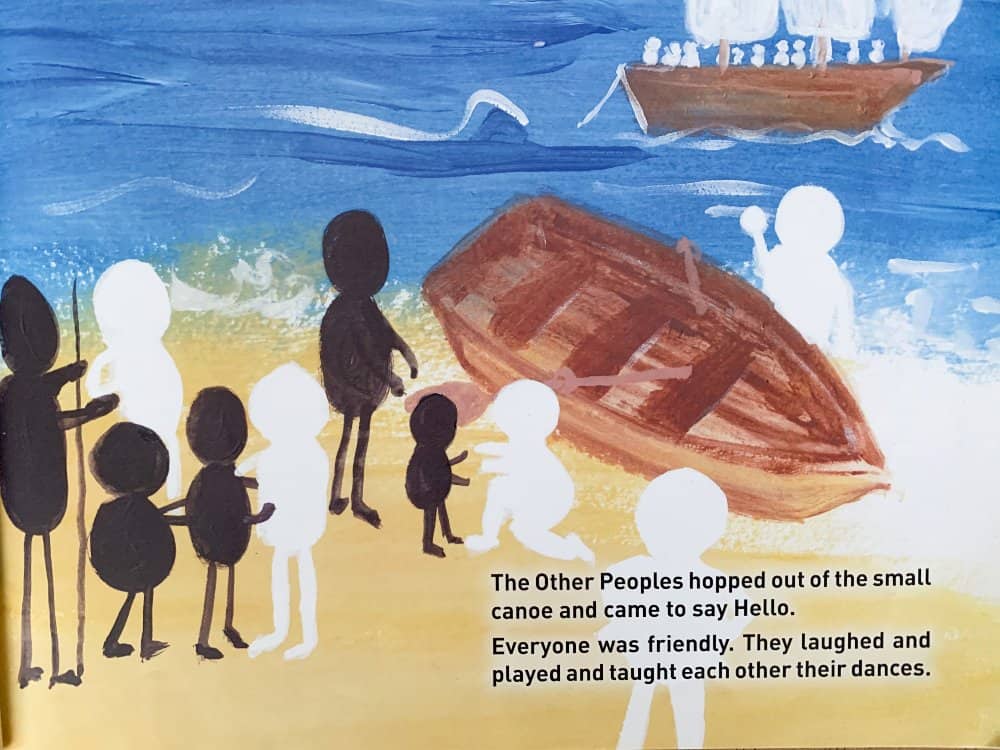 Sorry Sorry begins by telling the story of the First Fleet's arrival in Sydney Cove from the point of view of the First Peoples who were there when Captain Arthur Philip and his crew came ashore.
With child-like illustrations and simple text, the story explains that the First Peoples helped the Other Peoples and that, in the beginning, the two groups were friendly towards one another. It goes on to describe the First Peoples' concern for the land and the animals as more and more Others arrived and the way the Others forced the First Peoples from their land, cutting down trees and building roads and houses.
The most moving pages are the two pages which describe the First Peoples' sadness and the final realisation by the Others of what they had done and how much pain their actions had caused. These are the pages which always seem to strike the children most forcefully. When I read words like 'Oh no!' and 'That's not right!' and 'That's not fair!' there's total silence in the room and I see every child's eyes fixed on the book as they process the sadness and shame felt by the characters.
I believe that empathy is the most needed quality in our world today and am passionate about helping children develop it. So I love it when I can see children relating with such empathy to the First Peoples' situation and really feeling the force of the injustices and lack of respect they have experienced.
Teaching and learning about Sorry Day and reconciliation
The story goes on to describe the reconciliation process: the way First Peoples and non-Aboriginal people are learning to listen to and respect each other and to care for the land and each other. Again, these are big, complex issues and I think this book does a brilliant job of explaining them simply and in a way that children can relate to. Though the word 'reconciliation' is not used, the book is a great introduction to the concept of reconciliation and, of course, you can always introduce the word when you're discussing the book with your kiddos.
If you're a teacher, this book is a terrific one to add to your teaching toolkit. I think it can be wonderful to simply read it aloud and discuss it with your class but you'll also find that the book inspires loads of ideas for activities you can do together. There are some suggestions for drama, art and history activities at the back of the book and these are a great starting point but there are lots of other possibilities too.
The conversations inspired by this book are obviously quite different depending on the ages of the children to whom I'm reading but the great thing is that the book inspires really rich conversations with all age groups. I find that different groups of children pick up on different aspects of the story and most are fascinated by the cover artwork by an Aboriginal illustrator called Marda Pitt.
The artwork and language in Sorry Sorry 
I really love the artwork in Sorry Sorry.
The artwork, like the text, is deceptively simple and completely wonderful. I think the fact that the illustrations resemble a young child's artwork helps to explain why children seem to relate so quickly to the book.
Perhaps they feel instantly connected to the story via the illustrations.
Perhaps the illustrations give them an instant entrée into the story.
The language choices in Sorry Sorry are deliberate and also spark some wonderful conversations.
Why did the First Peoples call the ship a canoe and the sail a cloud?
Why are the Aboriginal people called 'First Peoples'?
And why are the people who arrived with the First Fleet are called 'Others'.
This week I've shared Sorry Sorry with a class of Year 2 children and with a group of Year 6 students. Both groups of children were completely captivated by the perspective of the First Peoples. The older children were, of course, pretty familiar with the story but had never heard it told from the First Peoples' point of view. All the children were visibly moved by the way their land was taken and the First Peoples were sent away. It's a simple text but the way the story is told is very powerful and its simplicity is part of this power.
For some reason this book isn't as widely known as I think it deserves to be. I think it's worth finding a copy to share with the children in your life.
Does you have a special picture book you like to read on Sorry Day or during Reconciliation Week?
Have I missed your favourite?
I'd love to hear what you think so drop me a line in the comments.
Hello!
I'm Felicity. I blog about children's books and reading and about their potential for enriching the lives of young humans.
I review picture books, board books and sometimes books for older children.
As well as being a lover of all things to do with books and reading, I'm a mum of three young adults and a primary school teacher. I also create gift baskets filled with the very best books for children from newborns to four-year-olds.
Welcome. It's nice to meet you.