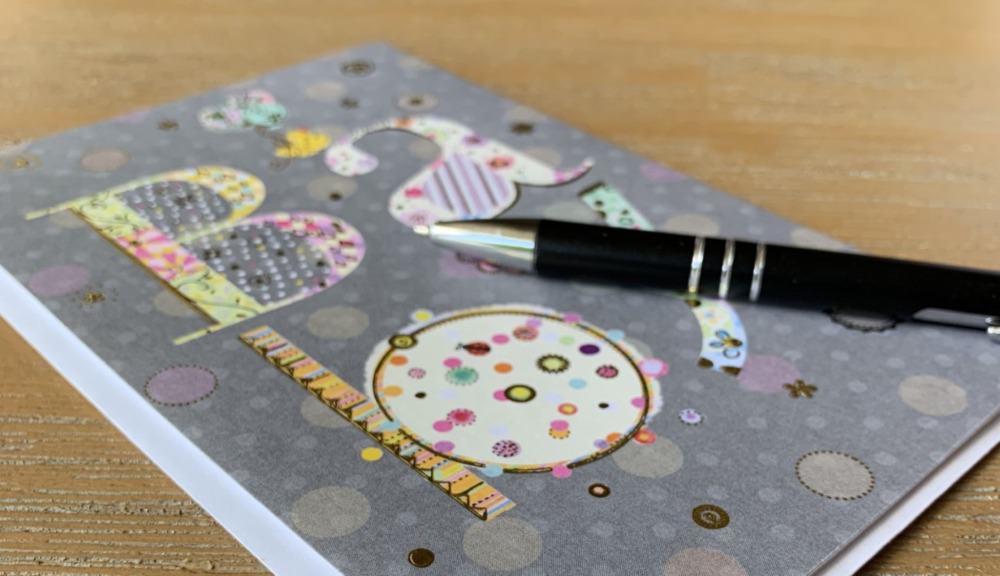 How do you write the perfect baby gift card message?
You've chosen a cute gift and it's been carefully wrapped. You've bought an appropriate baby gift card and now you'd like to add a personal message which expresses the happiness you feel for the new parents or parents-to-be … but what do you write?
If you find yourself feeling a bit like this when it comes to gift card wording, you're not alone. Many people feel this way, especially when it comes to writing a baby gift card message. I certainly do!
Expecting a new baby – or having just welcomed a new little person into the family – is such an important time in the lives of the new parents and "wishing you all the best" or "with lots of love" can feel a little impersonal somehow. It can be hard to know where to start.
If you feel like you could use some inspiration when it comes to writing your baby gift card message or your baby shower card message, have a look at the ten beautiful gift card message suggestions on this page.
Many of them were written by my customers who've come up with the loveliest new baby wishes when purchasing my book gift baskets.
This means that these new baby wishes are quite specific – they're tailored to new baby or baby shower gifts which have a bookish theme. Of course, I'm kind of biased in favour of book gifts for children and babies but, if you're giving a gift of another kind, you'll find a baby gift card message here that you can personalise to suit your gift.
10 Beautiful Baby Gift Card Messages
We were so excited to hear about your arrival. There are so many brilliant discoveries ahead of you – like story books! We hope you enjoy these beautiful stories over the coming years as much as our family has enjoyed them. 
May your life be filled with beautiful stories.
May your life be full of love and laughter and your shelves be full of books.
Wishing you many nights of bedtime stories and sweet dreams.
I am so excited to meet you and to share my favourite books with you. I hope you love them as much as I did when I was small.  
"You can find magic wherever you look. Sit back and relax, all you need is a book." – Dr Seuss 
If Jack's anything like his mum, he will probably be an avid reader so here's a little start on his collection! These are some of my niece and nephew's favourite books.  
We hope you enjoy this gift. Some of our happiest, most intimate parenting moments have been shared over the pages of a book and this collection has some particularly special titles! 
Welcome to the world! Hope to meet you soon and to enjoy reading these with you one day.
Welcome to the family little one. We love you so much and cannot wait to kiss and hug you. Hope you enjoy these books with Mummy and Daddy.
And here's a special baby gift card message which is just a little bit different. One lovely person who purchased one of my book gift baskets as a new baby gift actually gave the gift to the new big brother. Here is the message she asked me to write on the gift card:
"Here is a basket of books for you to enjoy and read to mum and dad and to Thomas. We hope you are enjoying your new baby brother."
Isn't that lovely?
I hope you've found a message here to inspire you. 
Do you have a baby gift card message you'd like to share?